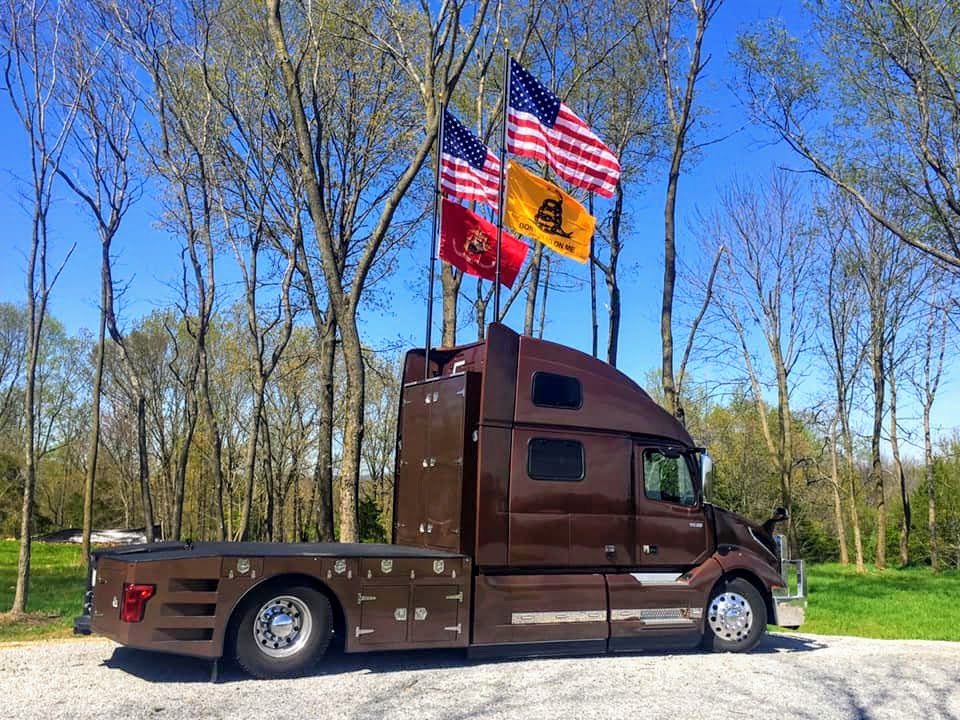 RVH Lifestyles customizes Heavy Duty Trucks for recreational use.
We pair these trucks with high-quality hauler bodies and provide full mechanical and conversion services, accessorizing, in-house paint and body, and educational/training materials for the recreational market. We specialize in Volvo trucks, but we will work with any brand truck – either your truck or a truck we provide. Our towing solutions can handle any recreational load in safety and comfort.
As a licensed new/used vehicle dealer and a licensed vehicle converter we can find the right vehicle for your needs. Financing of new vehicles and selective used vehicles is available for the total package – with the truck and hauler body configured to your specifications. We also offer third-party nationwide warranties on all our products, or for your existing truck.
We have learned a lot about what works well and what does not. Our twenty-three years of full time RV experience using HDTs has given us practical experience, not "theories" or marketing "hype".
Body Types
In addition to custom bodies designed specifically for your needs, RVH Lifestyles produces two production body types. The fully skirted body is our premiere offering, and incorporates a tremendous amount of storage. It is a highly detailed and refined body, color-matched to the truck, and clear coated.
The sports utility body incorporates many of the capabilities of the fully skirted body but does not have as much storage and is not painted to match the truck. Instead it is fully powder coated (all surfaces) and then bed lined where appropriate.
All of our bodies are fully powder coated for best durability and looks. All of our bodies are designed to have one of our drom boxes mounted on it for additional storage. In addition to our standard drom boxes, we build custom boxes that meet your specific needs.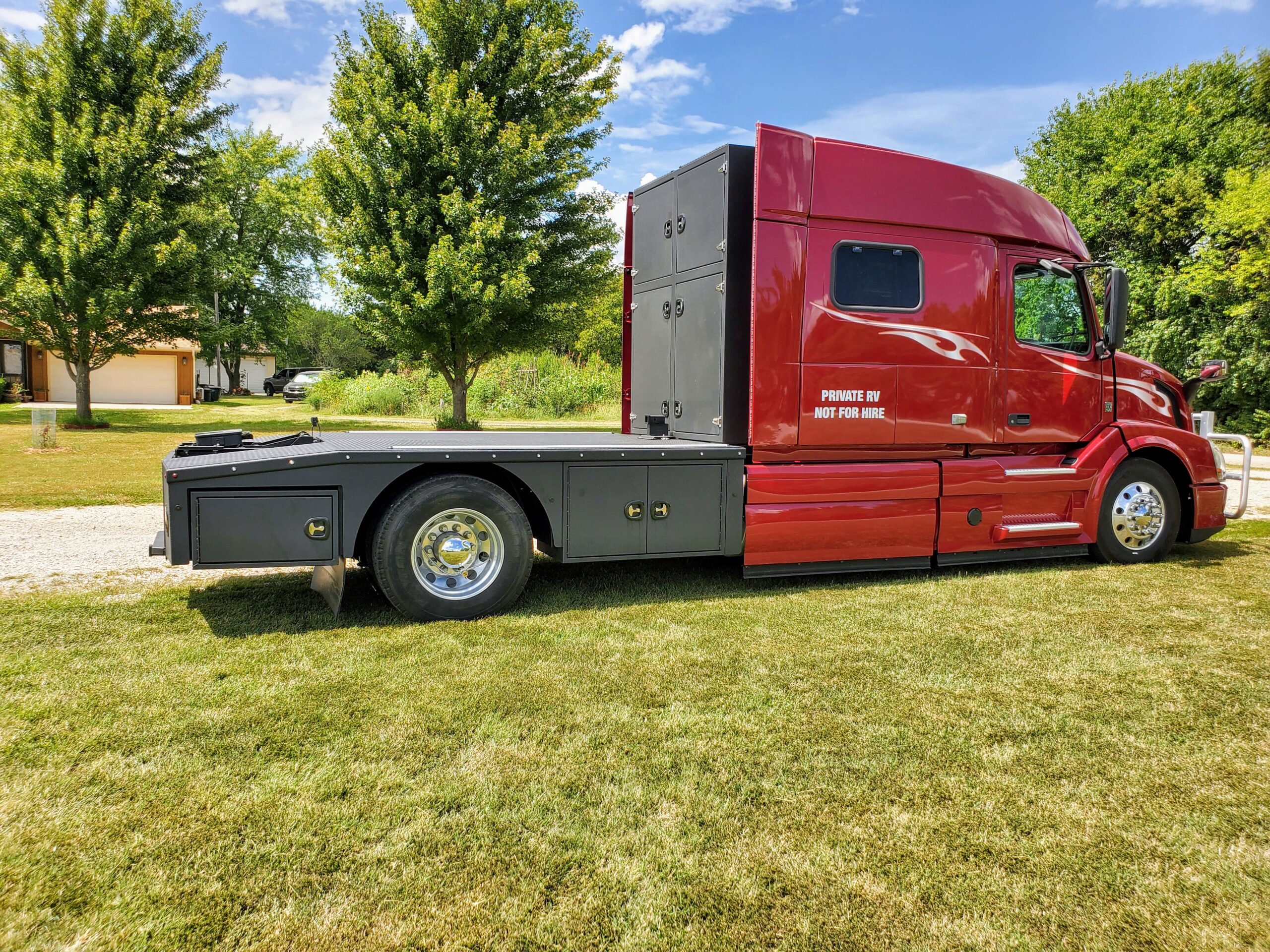 Sports/Utility Body
In addition to our flagship fully skirted and painted bodies, we also produce a more utilitarian body that is economical, yet has many of the capabilities of our premium bodies. This body still has the high-quality construction and design features we are known for but has slightly less storage. It is oriented towards a more "sports-utility" market. This body supports a variety of hitch types: class 4 receiver, pintle, suspension pintle, gooseneck ball, or a suspension 5th wheel hitch. This is available for a tandem axle truck, as well as a truck with a single rear axle. A version of this bed is also available to haul a Jeep or other vehicle lengthwise. Additional Info.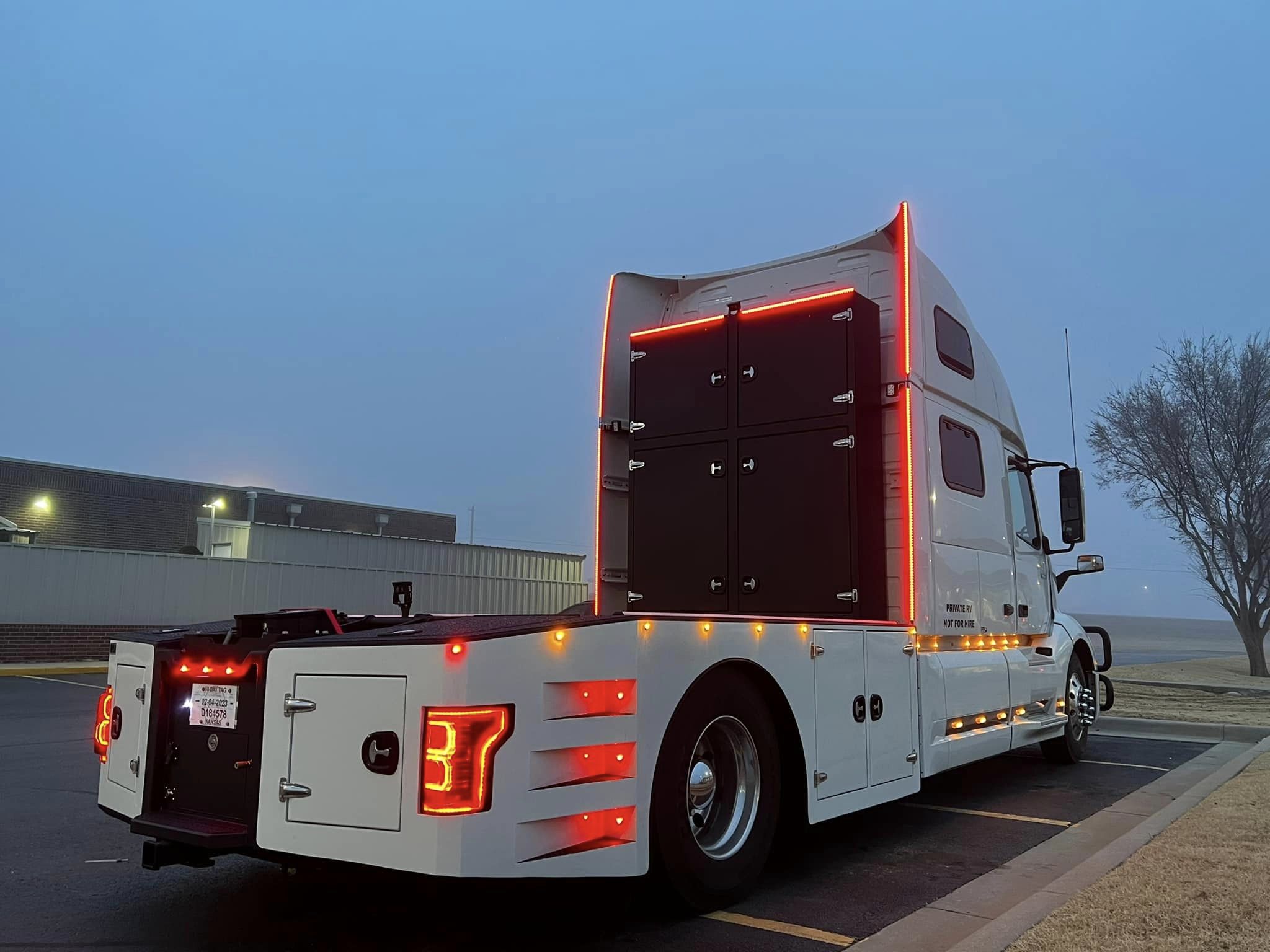 Premium Skirted Body
The premium skirted body is highly detailed, color matched to the truck, and has an automotive-grade finish. It makes excellent use of the available space. It is designed for a truck with a single rear axle and a suspension 5th wheel hitch or Gooseneck ball. The body is first powder coated and body worked for best appearance, then fully painted and clear coated. Additional Info.
Be sure to check out the Gallery for samples of the work we do. Looking at examples of our completed work is the best way to determine if we are the right choice for your project!
If you prefer a simple conversion without a bed at all we also accommodate those needs. We can do pretty much anything you need when building a minimal conversion without a body on it. The video below shows a Volvo 860 set up as a daily driver. It has storage on it, but no body.
Why Use a Semi-Truck for Recreational Hauling?
Safety – the larger truck is typically designed to operate with 80,000 lbs. Recreational trailers are light compared to what the vehicle was designed for. You have better brakes and the vehicle is closer in weight to the load it is pulling. The engine brakes on these trucks are designed for larger loads, and you can descend any hill without using your service brakes. Visibility is also excellent.
Performance – the typical truck has 450hp or more, and has 1650-1850 lb/ft of torque. This makes even the heaviest recreational loads "no problem" in the mountains. The truck loafs along with the typical recreational trailer.
Durability – these trucks are designed for a service life of one million miles. When repairs are needed, the components replaced should be good for the lifetime of the vehicle in recreational use. Plus there are many more service facilities nation wide that can repair these trucks in a timely fashion. The typical user will never have to replace the truck – it can be a "lifetime truck".
Comfort – condo trucks are designed for driver comfort. They have all the modern ameneties that a pickup truck has, including an automated transmission. No shifting of gears! They are designed for commercial drivers to live in – thus they have great creature comforts, including a very comfortable ride as compared to a pickup truck or Medium Duty Truck (MDT). They often have dinettes in them, and have refrigerators, microwaves, TVs, portapotty's, etc. All the comforts of home. The seats may have heat and air, as well as massage.
Flexibility – you can carry a car, motorcycle, trike, ATV, Side x Side, golf cart or other cargo on the back, while also pulling a trailer. Automatic loaders for motorcycles and trikes can be added. Great storage for your "stuff" is available. The cab can also be used as an office if you work on the road, a "man cave", or the truck can be used as a mini-motorhome for short trips. Because the cab has many of the comforts of "home", it can be used for visiting guests, or kids/grandkids.
Value – With the cost of a customized Super Pickup (like the Ram 5500 with a hauler body) approaching $150,000, the semi-truck converted for RV use offers some advantages. A used semi modified for RV use in the 400,000 mile range, including the bed/conversion costs, is typically about 10%-20% more than the fully customized pickup. This truck will outperform and outlast the pickup.
If you don't need the deck carrying capacity or interior living space of the larger condo trucks, we can build you a compact daily driver vehicle that you can use like a pickup.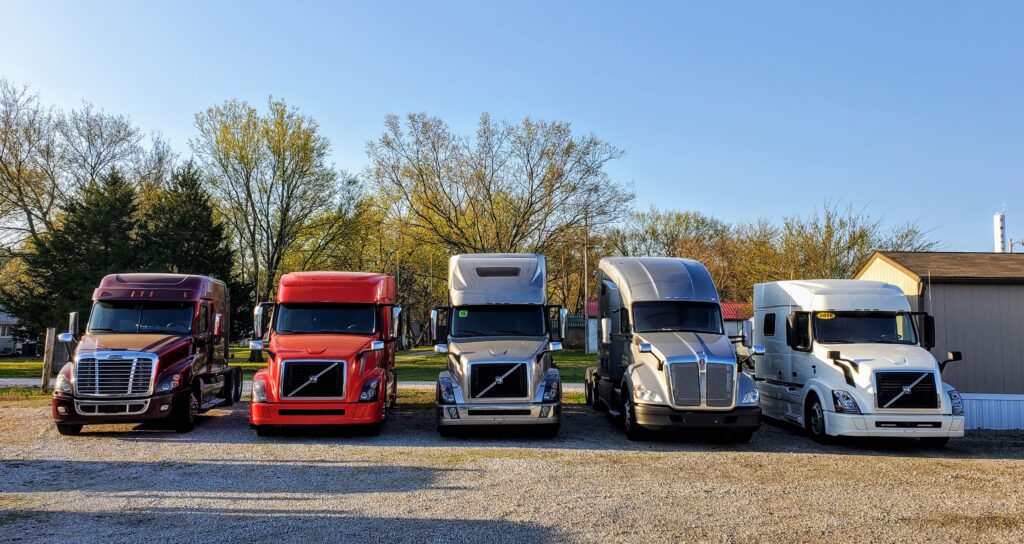 Your Mission Profile
There are a wide variety of trucks available on the market that can meet your needs. Understanding what we call your "mission profile" is key to choosing the correct truck and modifying it appropriately. What are you going to do with it? Are you going to use it as a daily driver? Use it for week-long camping trips without an RV? Sleeping space for guests? An office on the road? A "she-den"?
Our combined 28+ years of fulltime RVing using HDTs enables us to help you clarify your mission and match that to the right truck. Whether you intend to use the truck for weekend vacations, rodeo hauling, racing, or living full time on the road – we can help you choose the right combination of truck and level of upfitting.
Want to understand the "basics" of using an HDT in recreational use and how it might fit into your mission profile? The video below will provide a high level introduction to HDTs. It is taken from the 2023 National HDT Rally that is in Hutchinson, KS in October each year. This is an excerpt of the presentation, recorded by the YouTube channel Soaring Together (you can link to their channel from the video). The full slide show is in the Presentations area of this site (look in Learn/Presentations).
Products and Services
We provide products and services for all aspects of aquisition, conversion and accessorization of heavy duty trucks, for recreational use. If it can be done to the truck, we likely do it, including maintanence and repairs. Take a look at the Services Summary page in the Products section for additional details.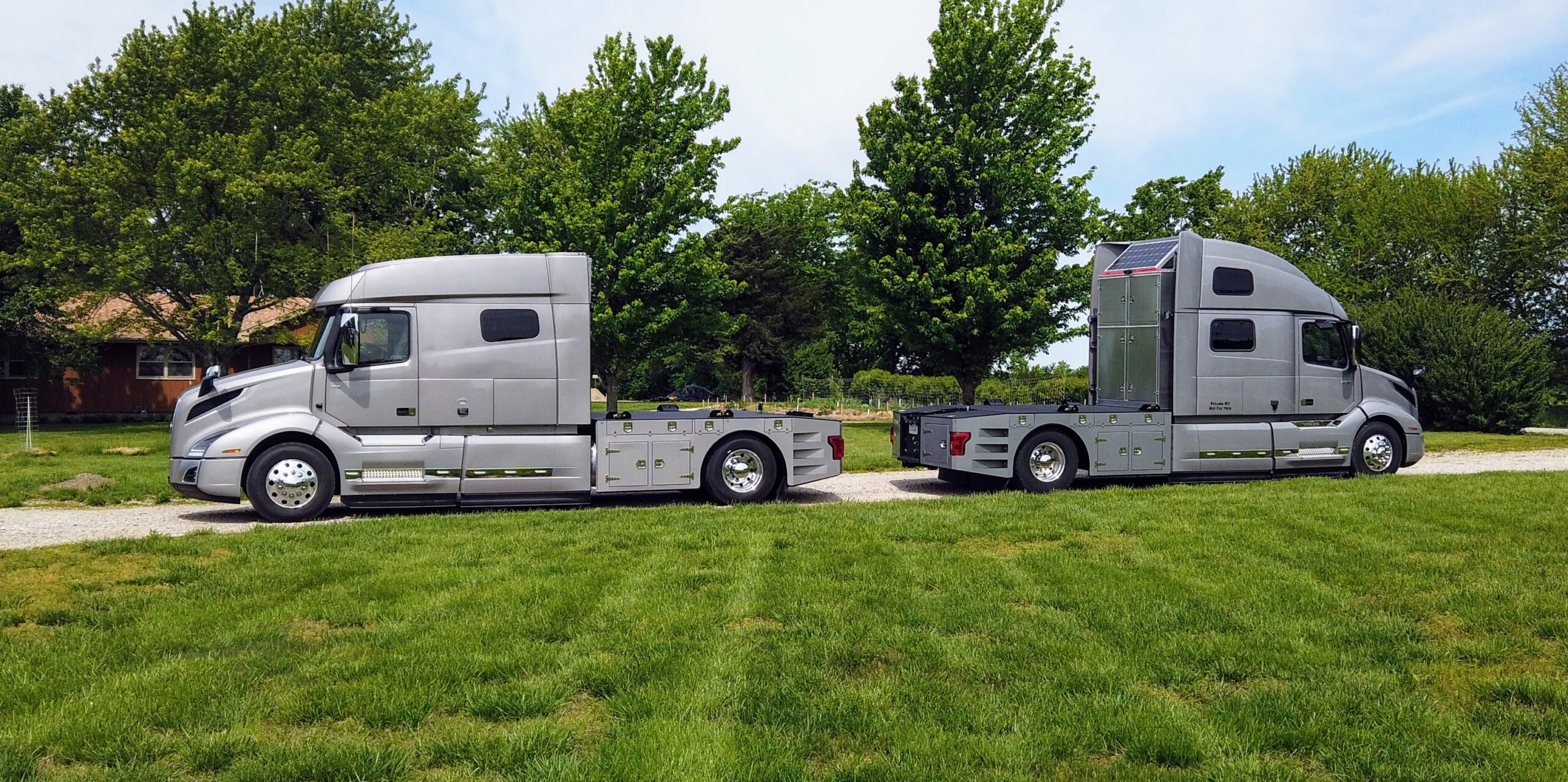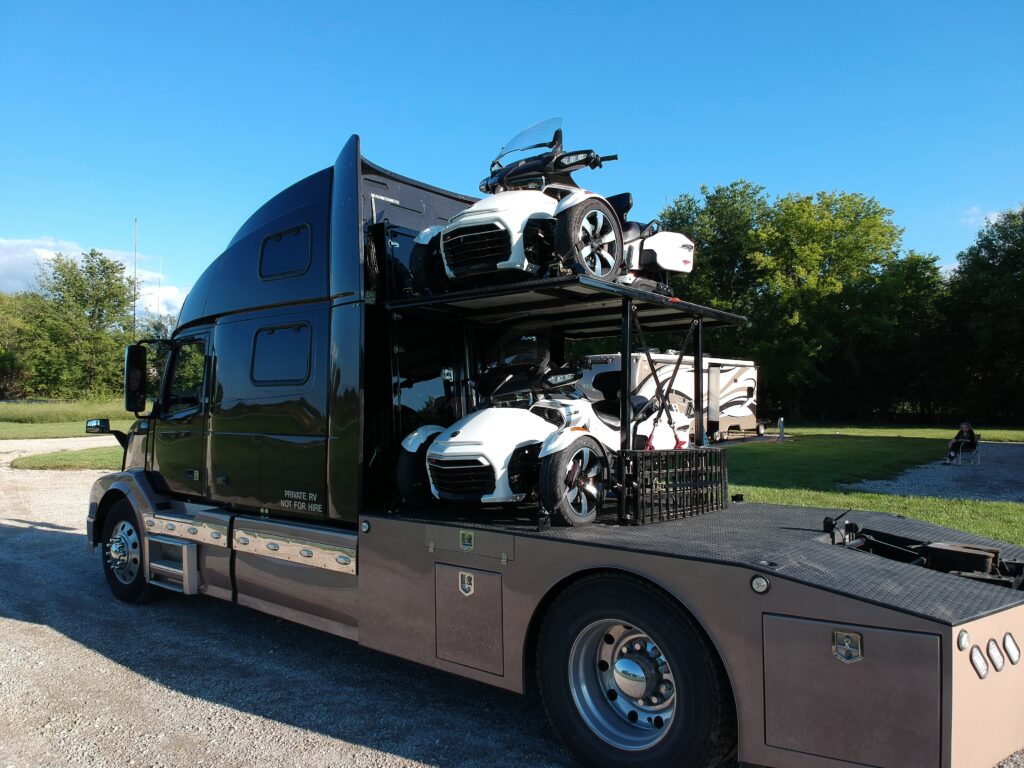 Besides our "standard" beds, described above, we also do selected custom work. An example is the "stacker" system shown above. This stacks two CanAm F3's one above the other, utilizing an electric/hydraulic lift. This type of custom work requires careful engineering, and is typically done on a cost-plus basis. On the stacker project we also added a Freedom Tote to the fifth wheel to carry a smart car along with the two CanAm's.