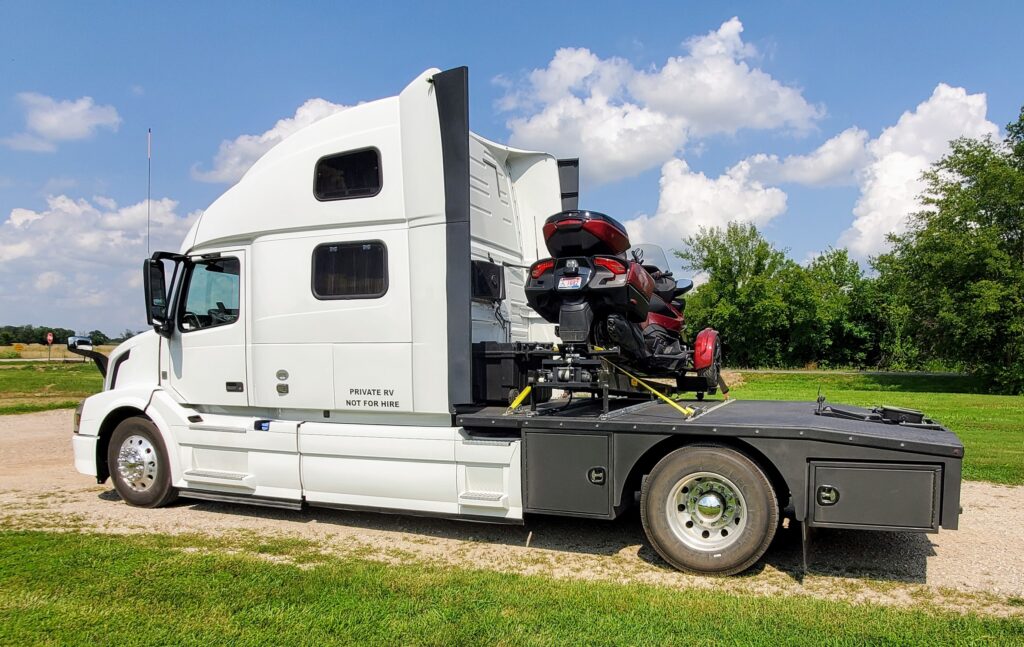 The goal of the sports utility bed is to offer a lower cost bed solution, that is still high quality and has the signature RVH "design elements" and attention to detail. It has slightly less storage capacity than our premium bodies, and is not painted. The finish is a matt black textured powder coat that matches our drom boxes, and is applied over all surfaces – including the under-surfaces. The deck, side rails and portions of the rear are then bed lined over top of the powder coat. Like the premium body, the sports utility bed system is capable of carrying a smart car, ATV, golf cart, CanAm, Trike, or another vehicle of similar size.
We generally stock these bodies in their single axle configurations. The tandem versions are semi-custom and are built to order, since the wheelbase is different on every truck, as are the tank positions. There is very little reason to use the tandem configuration, and we offer a discount on singling when combined with the single axle configuration.
When these bodies are in stock, a relatively fast turnaround on your project is possible – depending, of course, on what else you are having done.
Single or tandem – the sports utility bed is available for any truck style, size or brand.
There are two standard versions of this body type:
Single axle 99" BOC (back of cab), with step fairings left in place (stocked).
Single axle 99" BOC, with step fairings removed (tanks forward, stocked).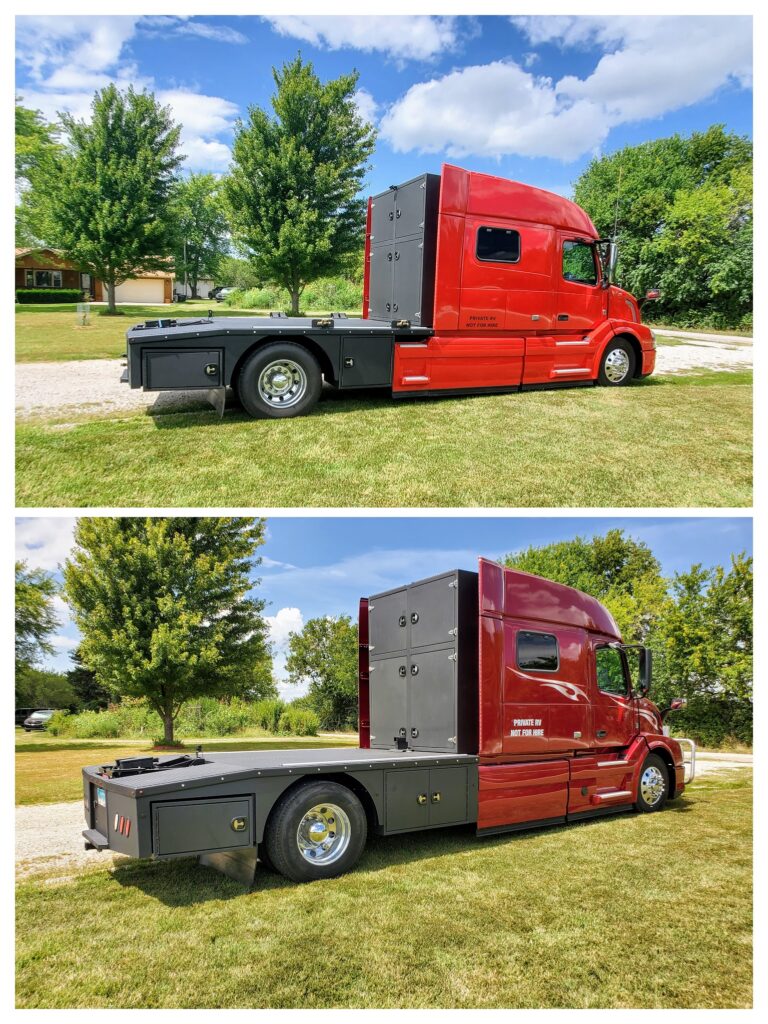 As a semi-custom build we can also do this bed in tandem configurations – examples of which you see below. These beds are required to be designed for each truck, since wheelbase and axle placement differs (there is no standard). We do not stock these beds – each has to be designed and built to order. This will prolong the delivery period, since design work has to be done, special parts cut, and then fabricated. It also increases the price.
There are two styles of the tandem beds – the difference is in front of the axle and depends on if there is space to position a forward box. We can move the tanks if desired/required, or even replace the tanks with smaller ones.
Tandem axle, with step fairings in place (built to order).
Tandem axle with step fairings removed (tanks forward, built to order).
A custom version of the tandem body allows hauling of a Jeep on the bed. The bed is sized to the specific Jeep being carried. Four door Jeeps, as shown, result in a very long truck – about 40′ on an 860 chassis. Two door Jeeps will be shorter. For perspective a "normal" sports utility body in a tandem configuration on a Volvo 860 will be about 31.5′-32′ long (it varies a little based on the original wheelbase of the truck).
On the "Jeep" body we move the tandem axles rearward for better weight and balance. We do not build bodies with large cantilevered "tail" sections. These negatively affect weight, balance and trailer handling. We will not produce such a vehicle.
We also do not produce bodies that position the vehicle on an inclined ramp to "save space". While that does save some space, we do not believe that it saves enough space to justify the compromises required to achieve the savings.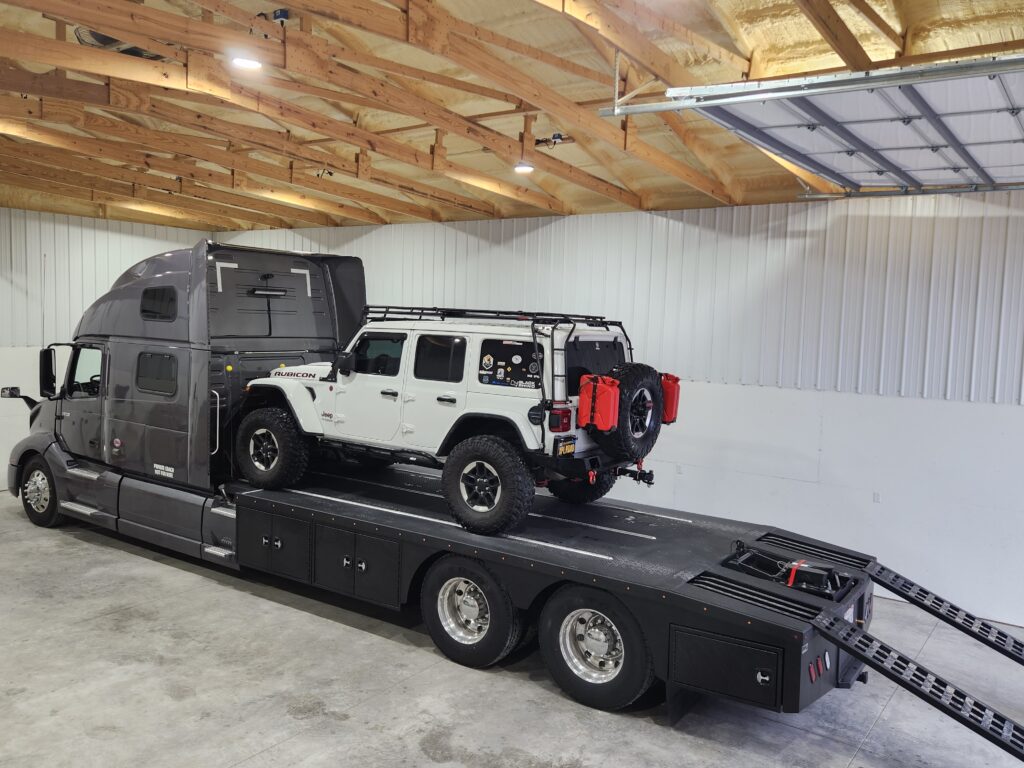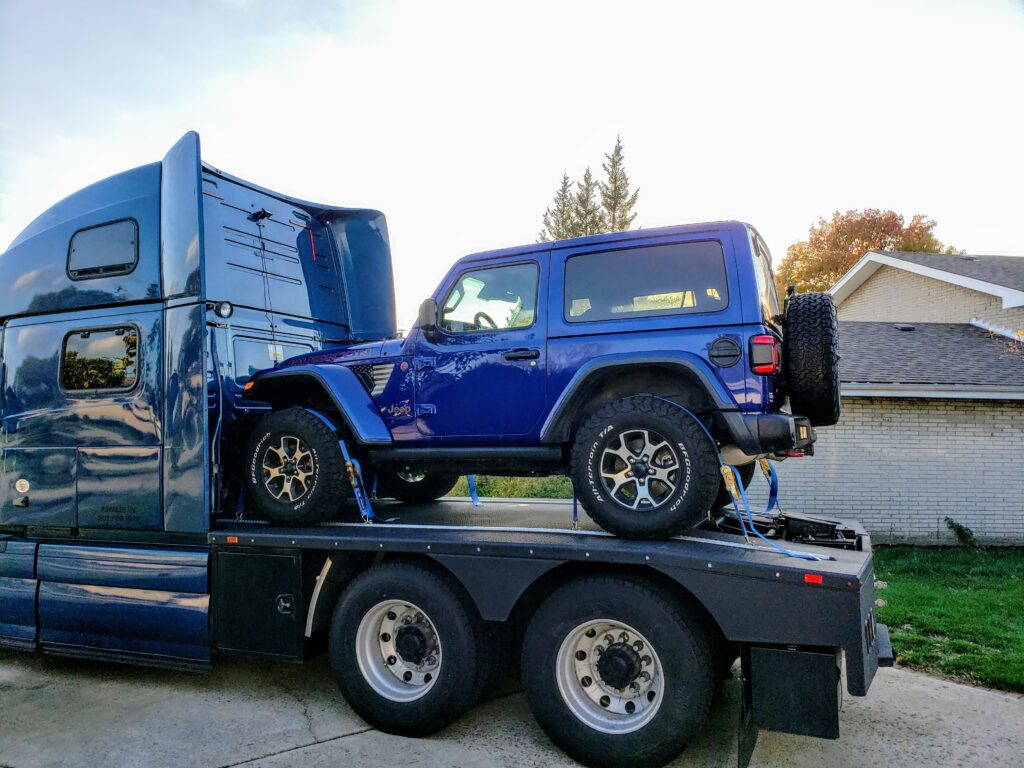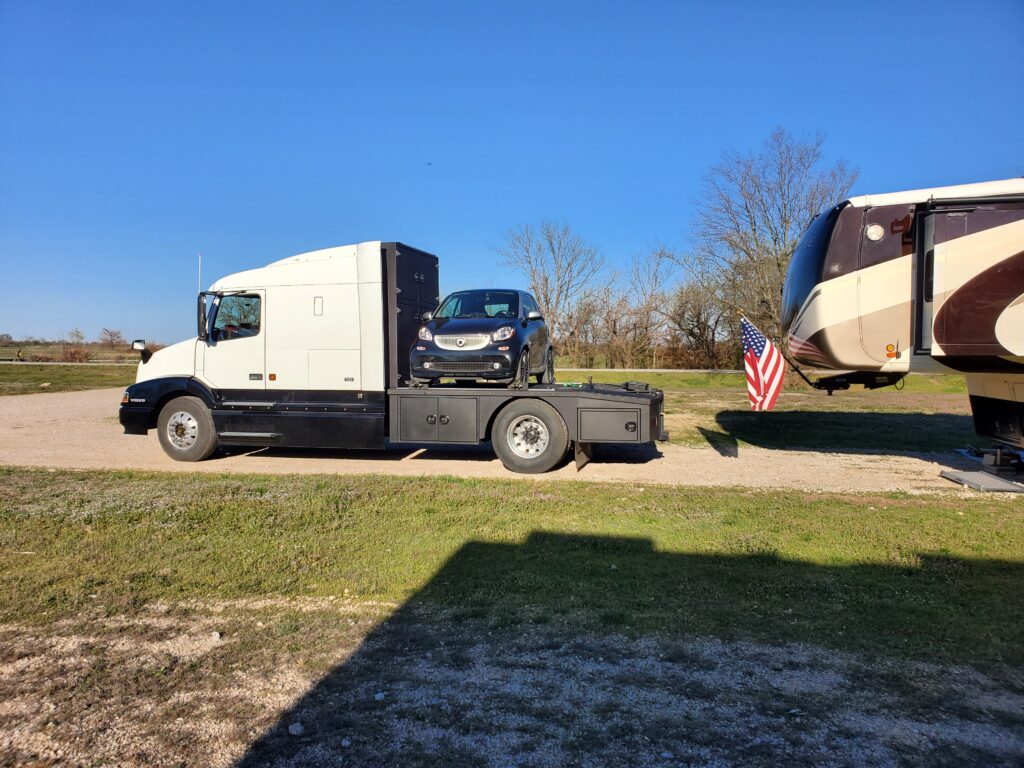 The older Volvo 610 above has a sports utility body on it. We also repainted most of the truck, and did significant body work on it – new hood, bumper fairings, etc. This pre pollution truck makes for an economical and reliable hauler.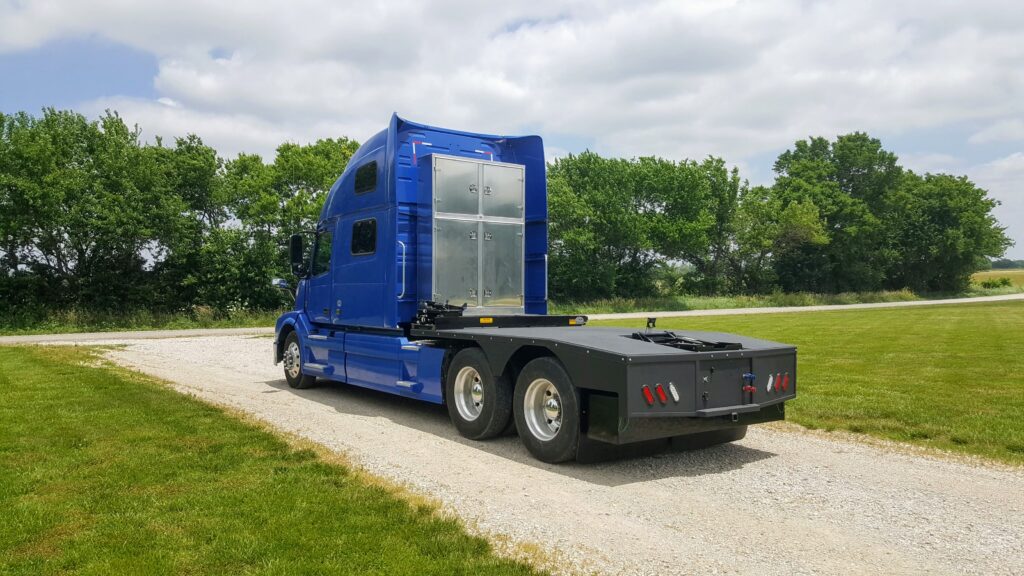 The blue truck in the two pictures above is the same truck. The customer originally carried just a motorcycle on a Rampage loader – that was what the bed was designed around. Later, their mission profile changed and they wanted to carry a SxS (side-by-side) ATV as well as the motorcycle. We removed the body, extended the deck portion, and added a new tail clip. The tail clip we added was the same as the singled sports utility body uses, and this is now standard on all tandem bodies. It replaces the underslung box that was carrying the ramps.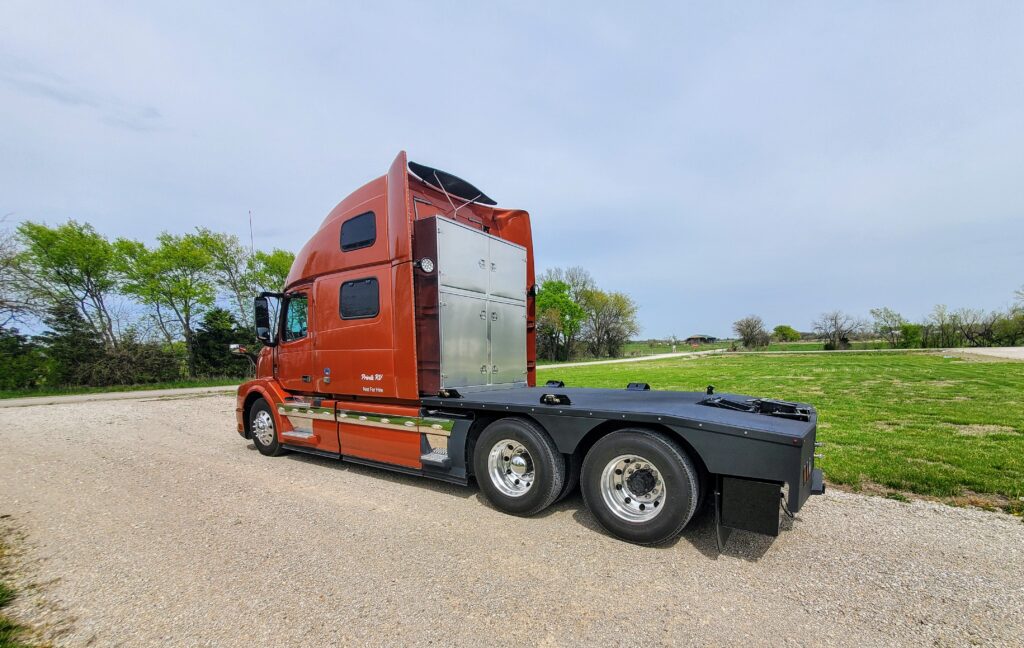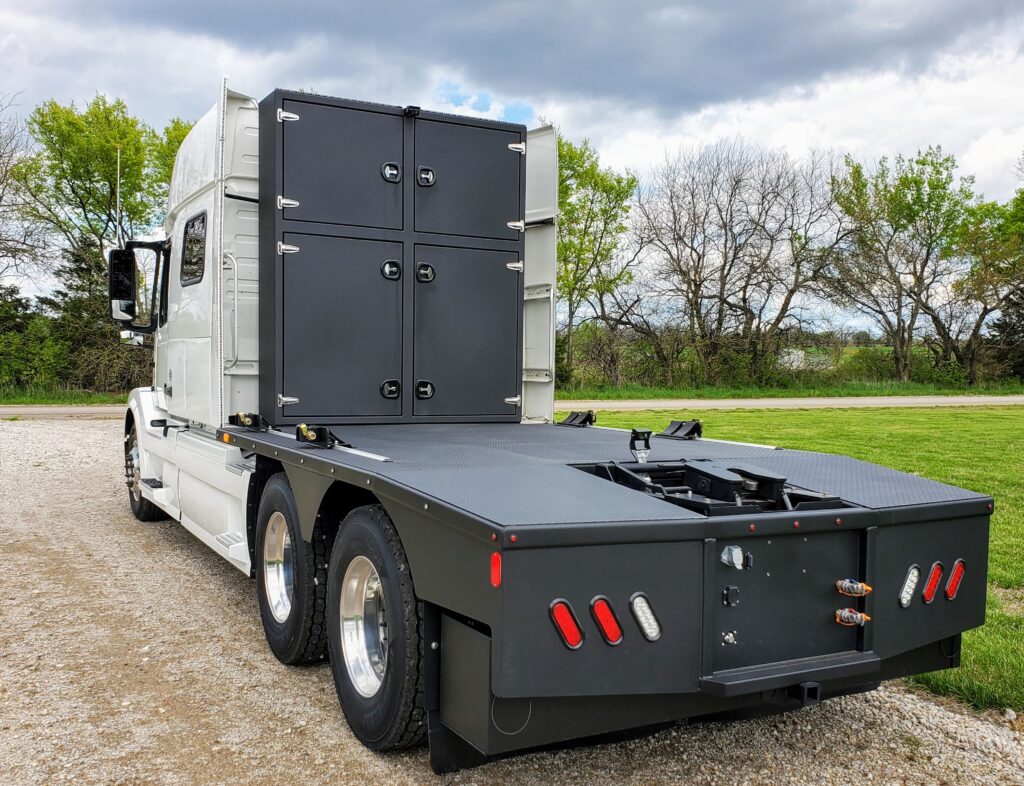 Bed Attributes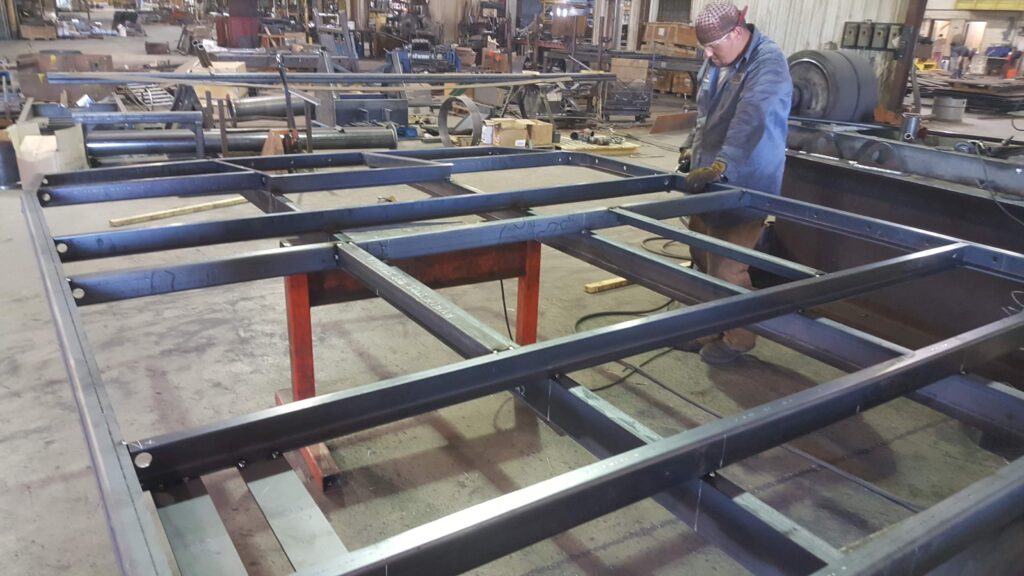 The sports utility bed structure is formed from sheet metal. The blanks are laser cut from sheet steel, then formed into custom C-channel on a computerized brake. This provides precision and strength with less weight, and results in a better product. Wire chases and other refinements are programmed into the laser. The fit of parts is impressive.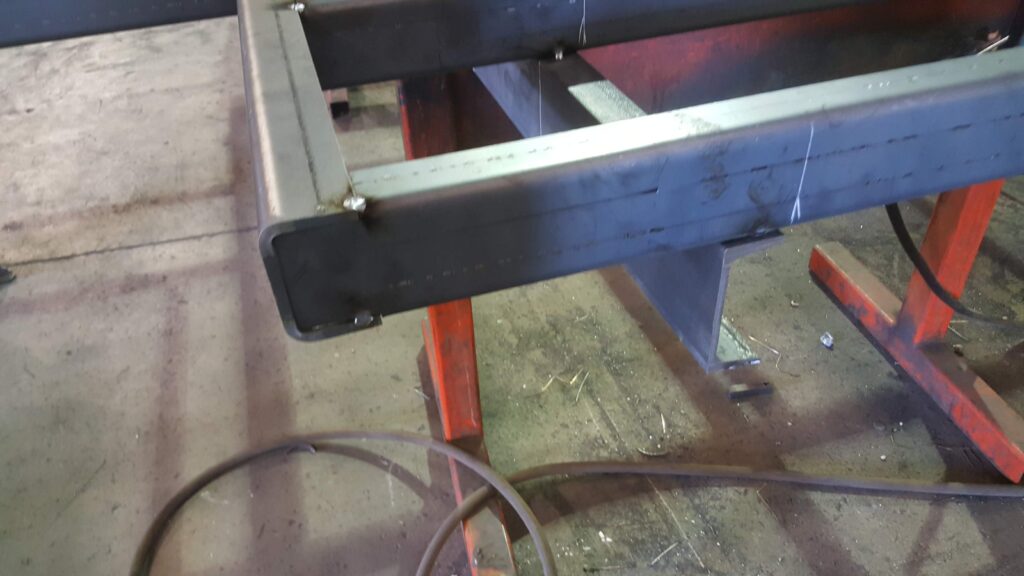 All metal parts are powder coated with a black finish. The powder coating process starts with sandblasting and includes a "pickling" stage, where the metal is cleaned and prepared for the next process; it completes with baking in an oven. The powder coat process adds considerable protection to the finished product, provides a very durable and hard surface, and is something that most other manufacturers of hauler bodies do not do. It is far superior to wet paint or even bedliner.
One of the advantages of custom-formed C channel instead of traditional tubing is that we can better ensure protection of the metal surfaces. Traditional tube construction is not protected inside the tubes from corrosion. With the C channel we can get powder to most of the metal surfaces.
The deck surface, in addition to the powder coat, has bedliner on it. The rear "utility" plate also has bedliner on it.
The bed is based on a flatbed structure. Because the bed is designed to sit on the frame rails and span over the tires and any fenders that are present, you can fit this bed onto most trucks. Tandem, single, long wheelbase, or short wheelbase; and any brand – it does not have to be a Volvo. We only need to know the axle positions so that we can properly position the cross members and total frame length.
If the truck frame needs an extension to accomplish your goals, we can do that work for you. We can also single the truck, or reposition the axles as needed.
Lighting
The rear light panel has a center utility section that contains the license plate, location for an optional video connector, and a trailer light connector. It also has gladhands as a standard feature.
All of our lighting is LED – the standard lighting is 6" oval lights, as shown. We fully loom the back of the lights, unlike most builders.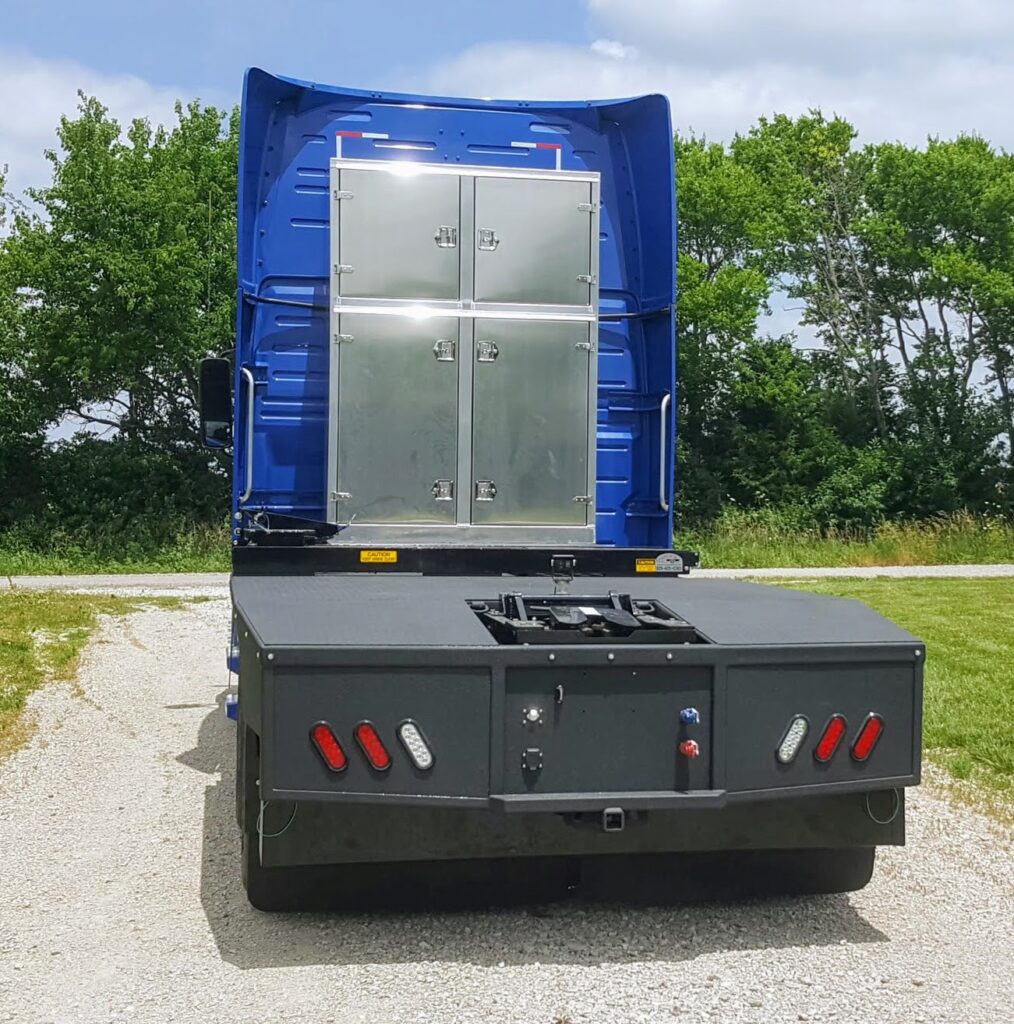 All our sports utility beds come standard with "chicken lights" (marker lights). You can see them on the edge of the deck below. In this case, they are clear mini-lights (¾" LEDs) that light as amber. They flash for turn signals. We can also add chicken lights on the truck cab/fairings and full function lighting to the drom box and back of the cab.
The rear lighting panel is the same on all of our sports utility beds, whether tandem or single axle.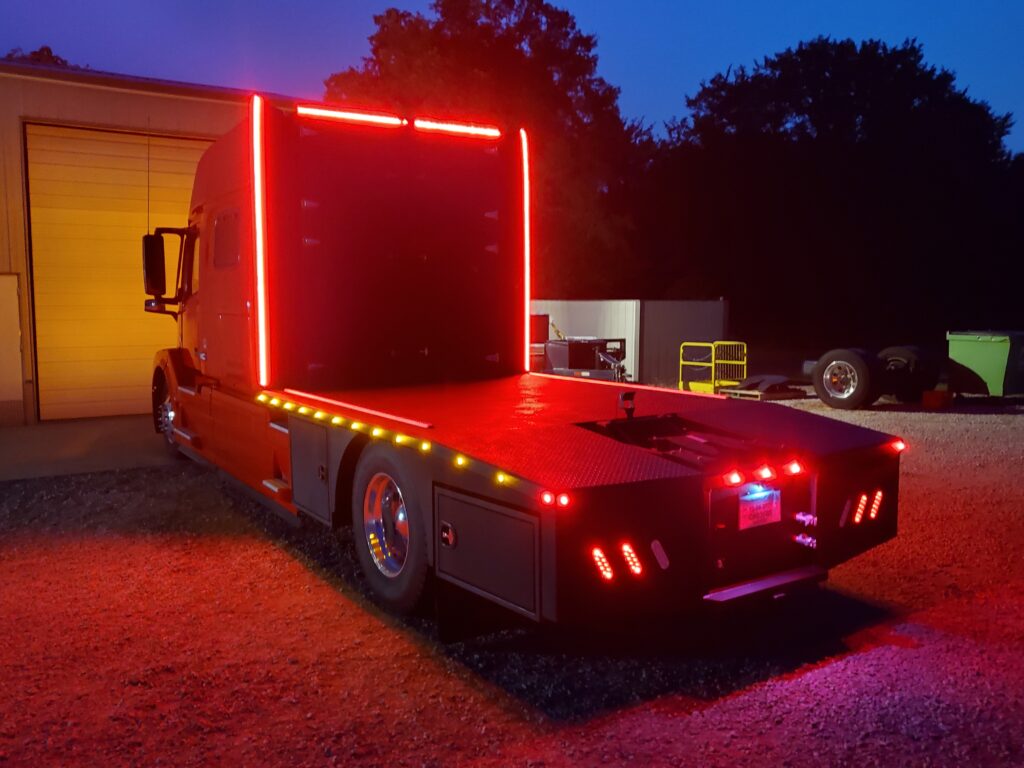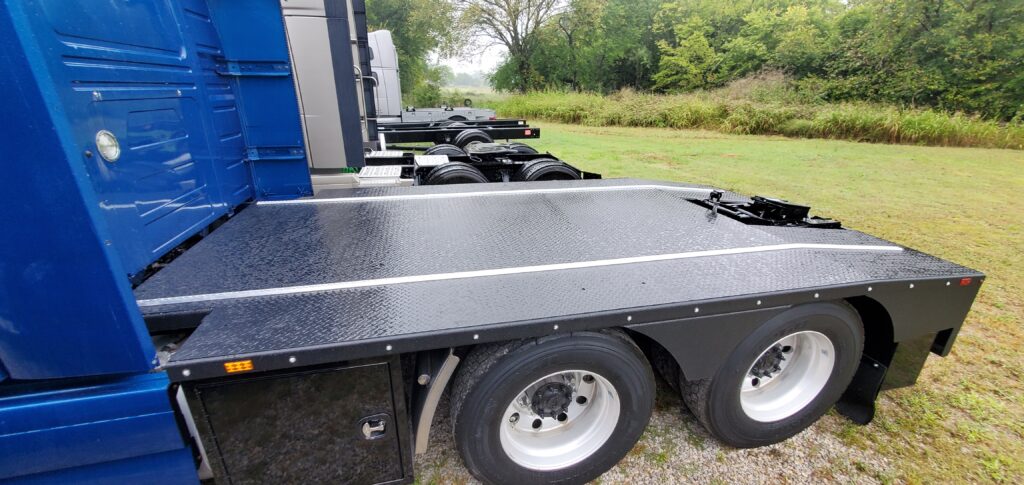 Side Boxes
Side boxes are hung from the deck wherever there is space. We retain the steps if they are present, since there are usually fuel tanks behind them. The size of the boxes depends on the space available. In general, singled trucks can support more box storage than tandem trucks.
We build custom boxes in any size and for any function, for use on our builds (no, we do not sell boxes individually). The advantage of custom boxes is that they are side swing doors, and that they are built to the exact size needed. Thus you get more storage and easier access from a custom box. They are also built of heavier material than the typical purchased box.
While we used manufactured "off the shelf" boxes at one time, we only use custom boxes now. The advantages are too great, and the cost savings of production boxes is not as much as you would think.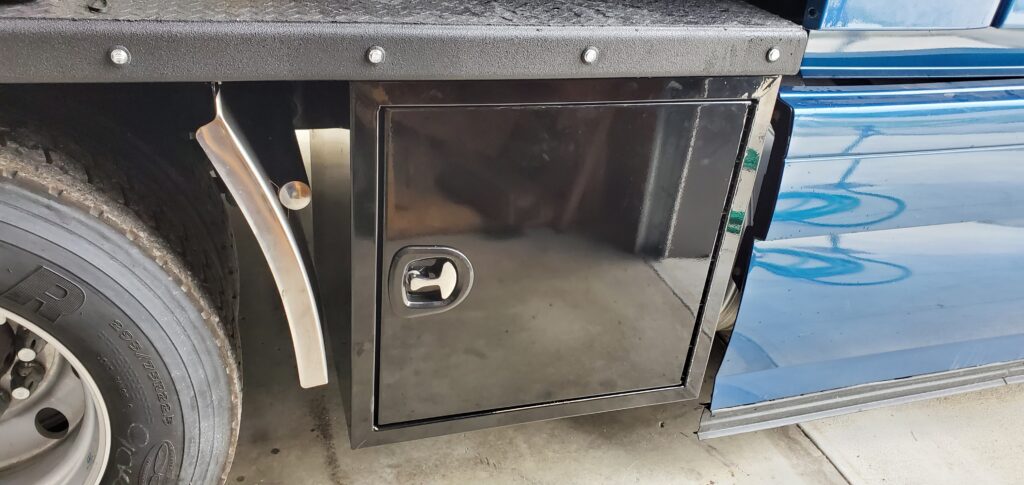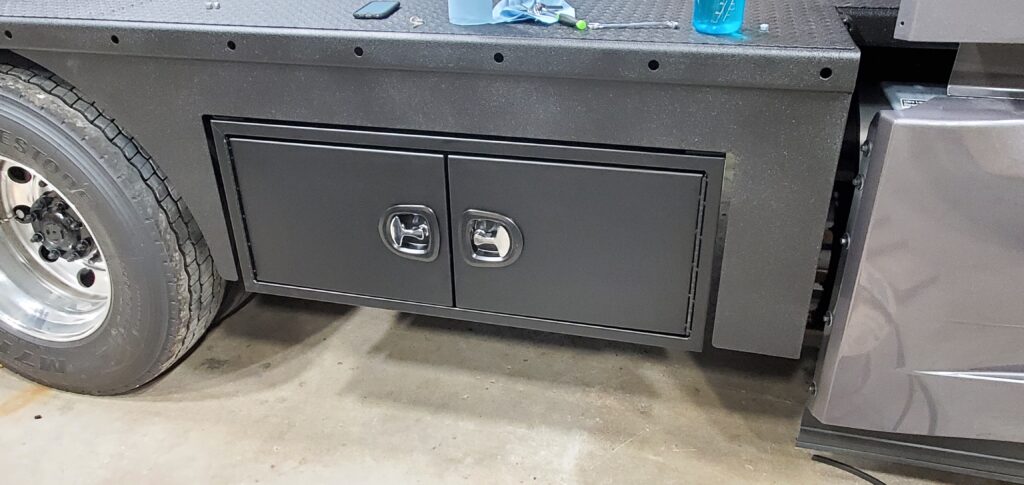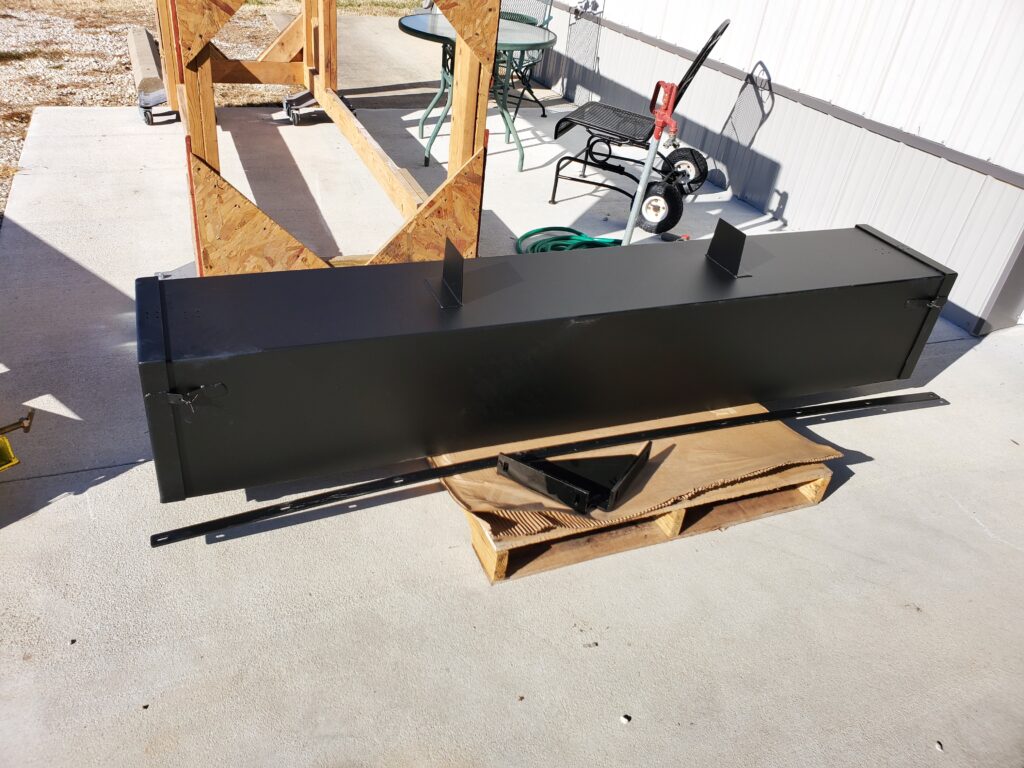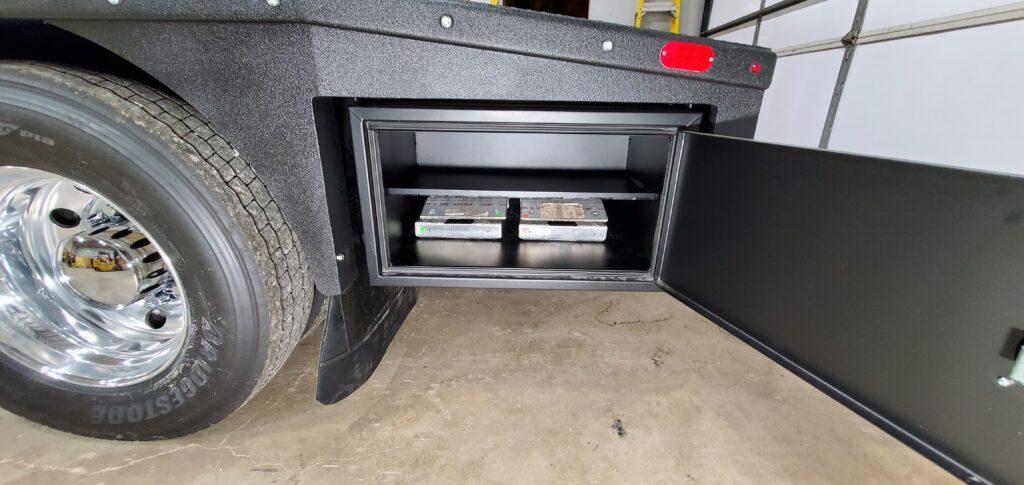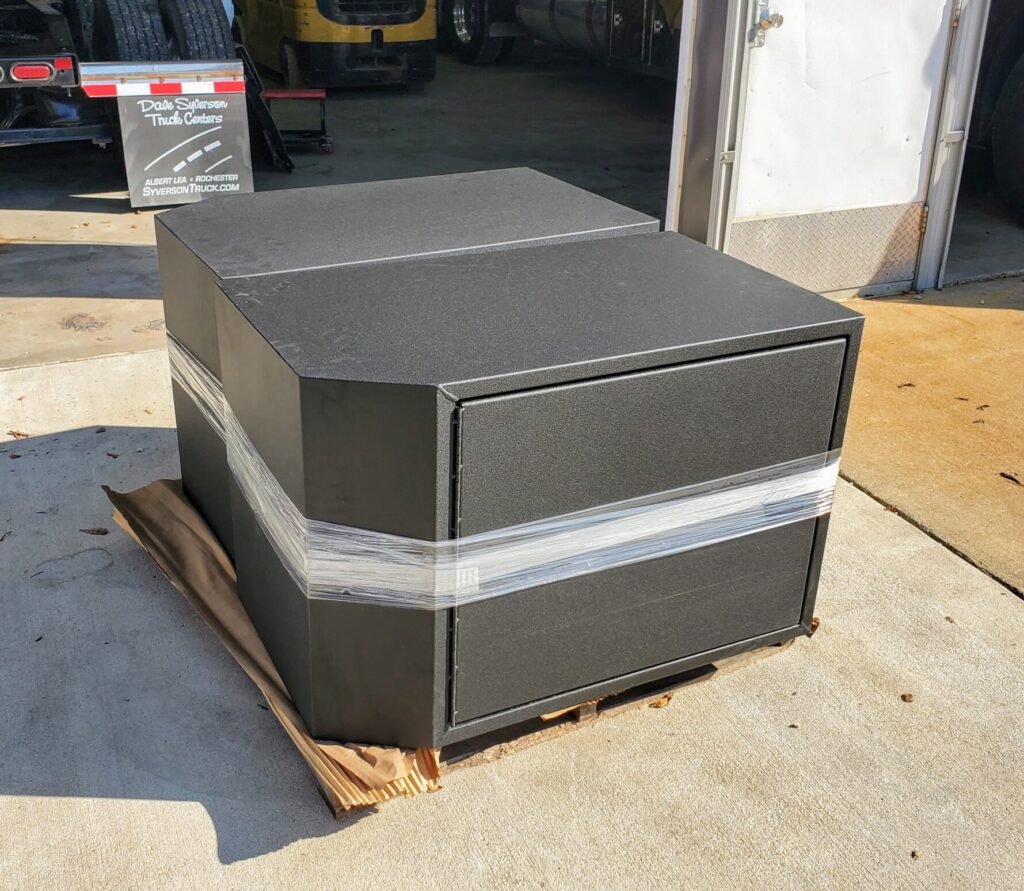 Configurations of the Sports Utility Bed
We typically stock sports utility bodies in the single axle configurations. While specialized versions of the bed can be built, there is an upcharge for this. In most cases the standard configurations should meet your needs. When these bodies are in stock, a relatively fast turnaround on your project is possible – depending, of course, on what else you are having done.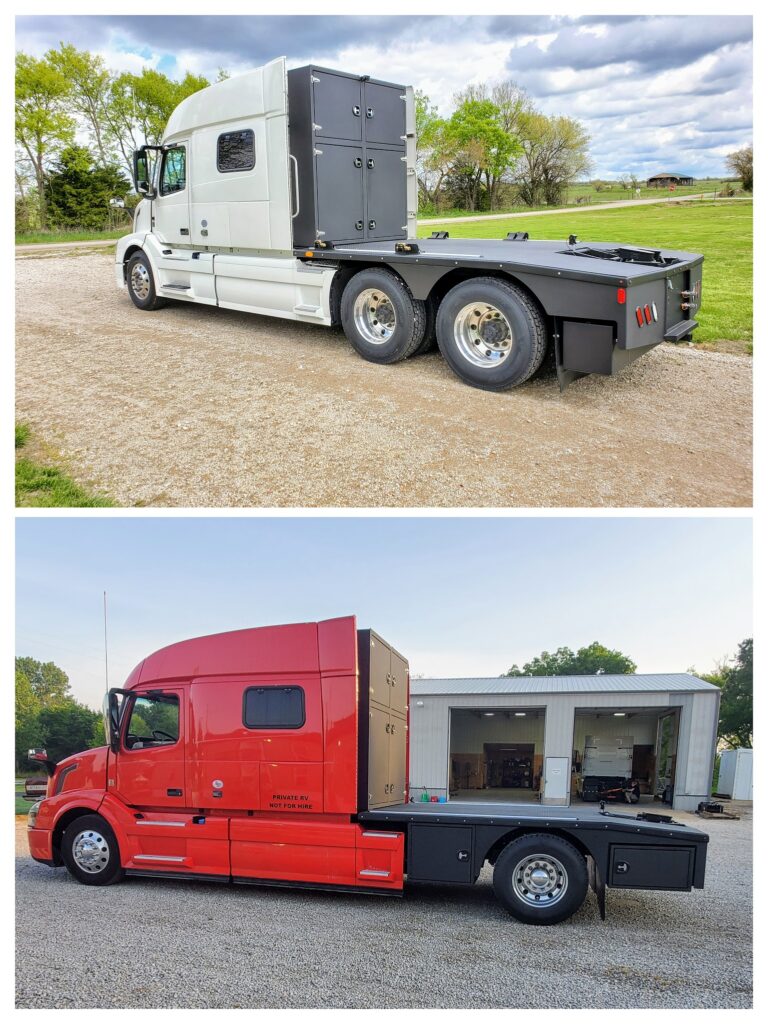 Single Axle Truck
The single axle Sports Utility body is based on a 99" BOC (back of cab) axle placement. We will "single" the truck to this dimension. This allows space for a cargo deck the size of a smart car – approximately 74" of usable deck space. This space can be utilized for a variety of vehicles besides the smart car, including ATV's, many SxS two-seat utility vehicles, golf carts, motorcycles, trikes and CanAm's. A specialized Rampage automatic loader can be placed on the deck to accommodate loading of motorcycles and trikes/CanAm's.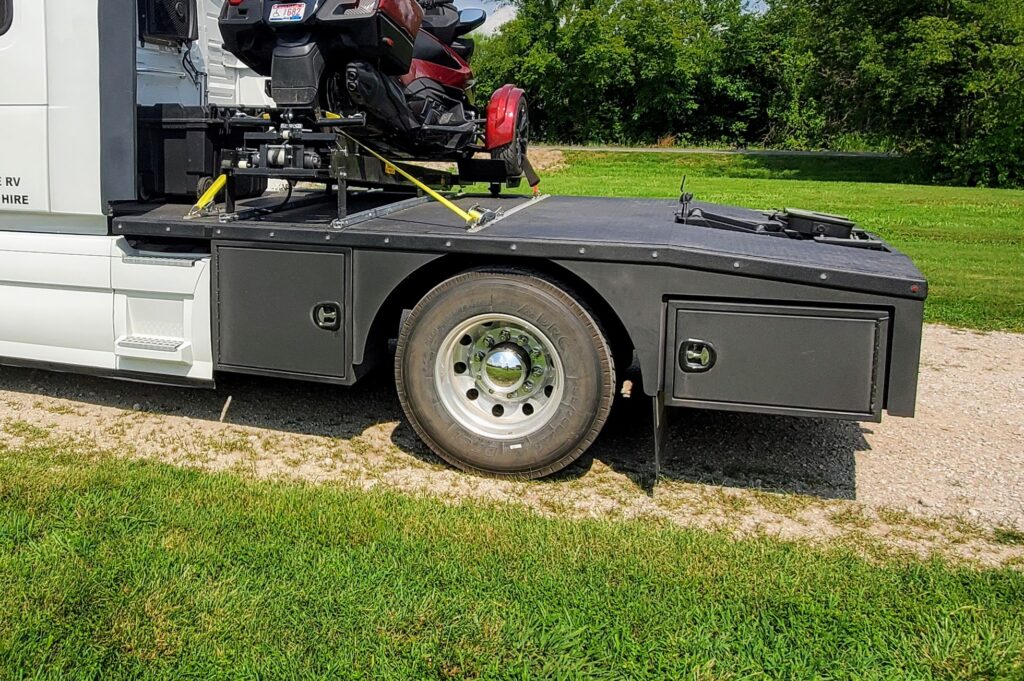 The single axle version of the Sports Utility bed comes with side skirting around the axle, forward boxes that are skirted, and a common rear tail treatment that will carry two (up to) 14" wide ramps in a side-by-side configuration. This ramp storage is cross-body, under the hitch. All single axle bodies have this common rear treatment. If not carrying ramps the cross-body storage is quite useful for longer items.
The "forward of axle" treatment will vary based on tank placement. While tanks can be moved to accommodate larger boxes, in most cases we do not do this. We can also replace tanks with smaller ones. In some cases this is the best route forward, since we find on most used trucks tanks start to show deterioration at the mounting straps in the 400,000-500,000 mile range. We can advise on this when we examine your truck.
There are basically two versions of the single axle bed.
Version one leaves the step fairings and tanks in place and positions a single door box between the tank and the axle. The size of the box could vary a little based on tank placement. This layout is seen above – that box is about 30″ wide.
Version two is for trucks that have the tanks in the forward-most position, or where we reposition/replace tanks, and utilizes the entire area between the axle and the vertical cab fairings. This makes for a very large box with two doors.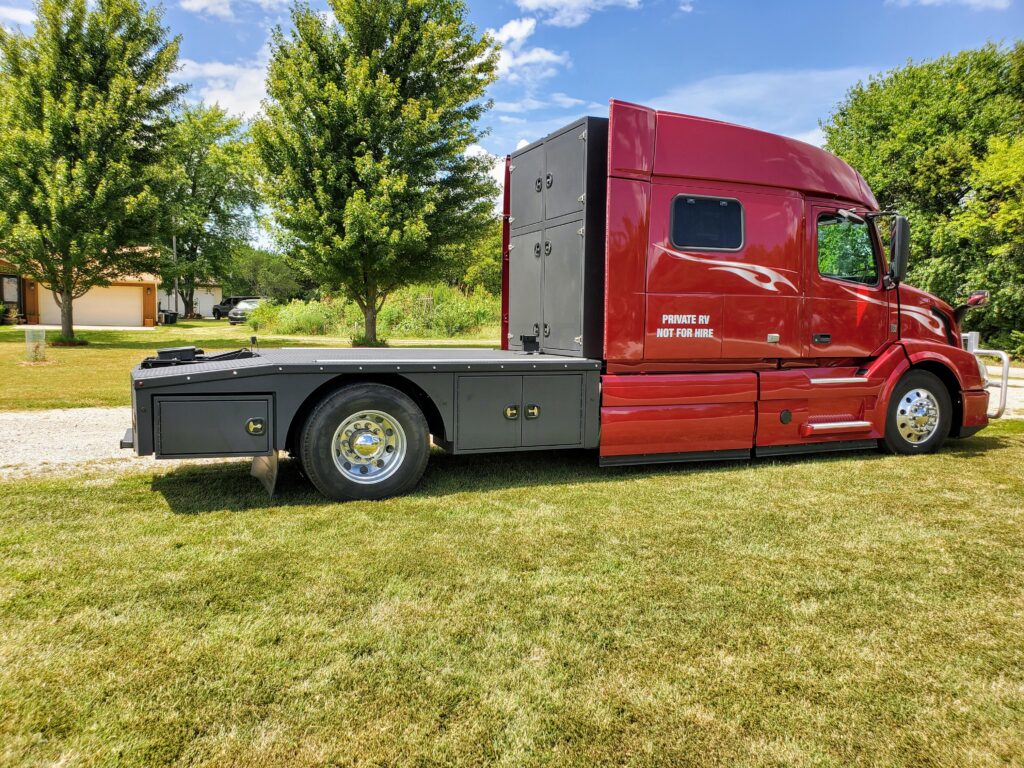 Tandem Axle Truck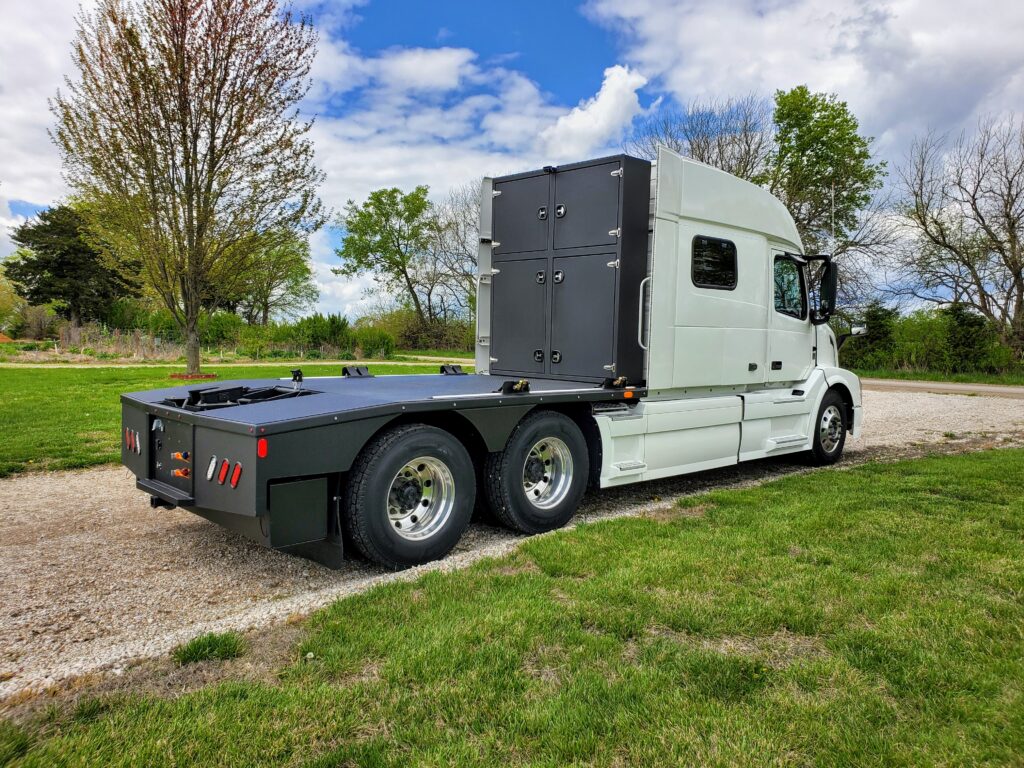 Axle location on tandem bodies varies, based on the wheelbase of the truck, fuel tank locations and other factors – there is not a "standard" axle location. Tandem beds are semi-custom, and are built to fit your specific truck configuration.
The rear treatment on all tandem trucks is now identical to the single axle body. We no longer use the underslung single box. This will hold 12" wide ramps – our standard smart car ramp. This ramp is rated at 1500lbs per ramp, and can be utilized with most vehicles you would cross load on the bed. It will also hold a special version of a non-foldable "Jeep" ramp that is 14″ wide by 7'8″ long.
On tandem trucks the "forward of axle" treatment will vary based on tank placement. In most cases no box is possible and we leave the steps in place, as shown above. A small "modesty" skirt is placed between the axles for appearance. In rare cases where the tanks are in the forward position (even with the vertical fairings) we can add a small box forward of the axles. We can also move the tanks, or replace the tanks with smaller ones to create the space for larger forward boxes.
The tandem configuration is a semi-custom build since we have to CAD each body, and then build specific to that truck. Every axle and tank position is different. We will do the tandem truck, but discourage it. The price increase and prolonged delivery times for the tandem bodies are something to seriously consider.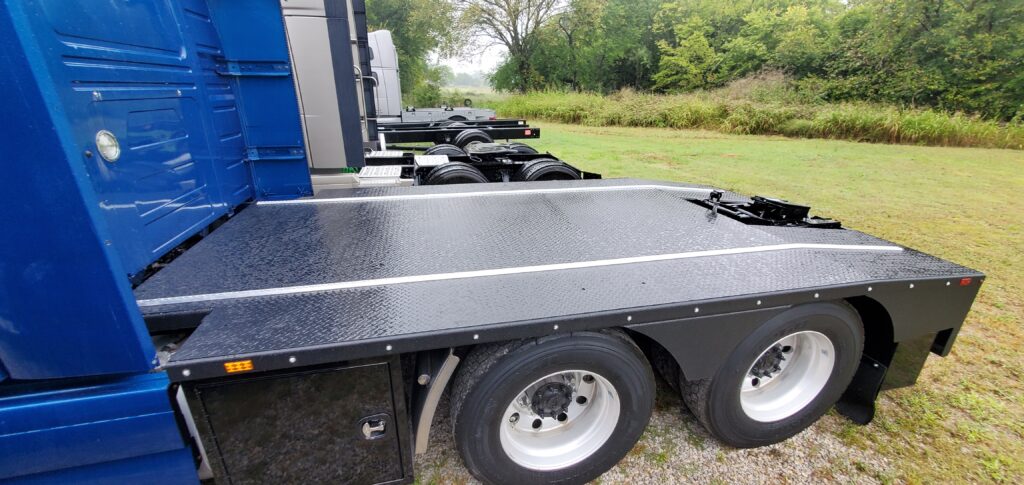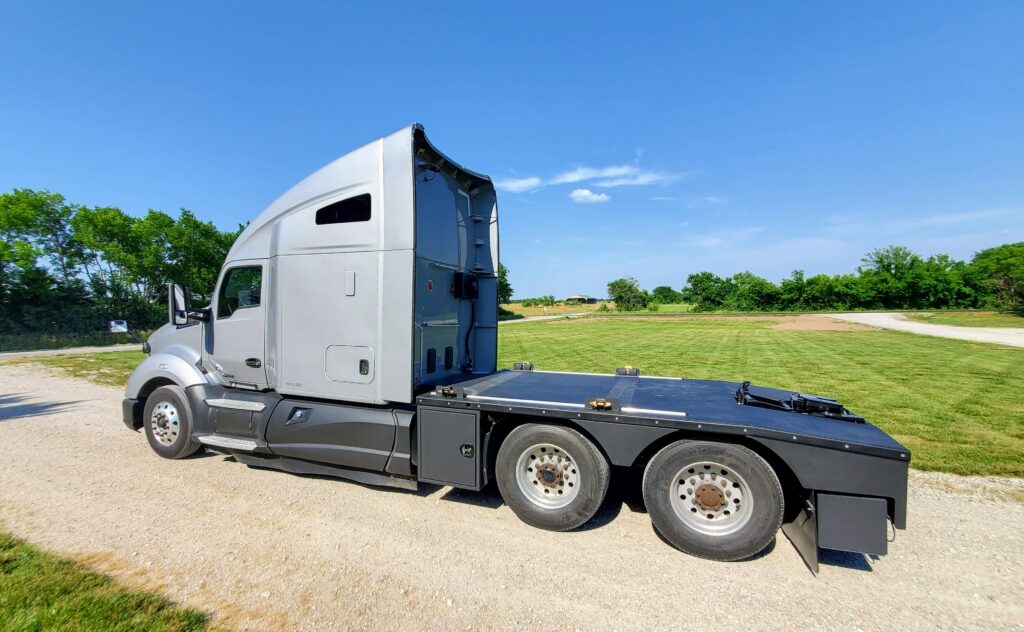 The Advantages of Singling
There is very little side storage available on the typical tandem truck, because there is no available rail space. We encourage you to consider the virtues of singling the truck if you need or want side storage. There are many advantages to singling, not the least of which is lots of additional storage.
There are very few disadvantages to a singled truck in recreational use. The main one is the initital cost, but that is quickly made up from reduced cost of maintenance and tire replacement. In most cases, trucks coming off of commercial service will have recapped tires on them, which we recommend replacing immediately. At a cost of at least $550 per tire, you can mitigate the singling costs a great deal in just tire replacement cost. Factor in brakes, air bags, shocks, etcetera and you can see that singling has its advantages from just a monetary perspective.
To encourage singling – which makes for a far more usable product – we will discount the price of singling if done at the time of the bed build.
There is more discussion on singling in the Learn section under "Singling Your Truck" .
Singled "Short" Sports Utility Body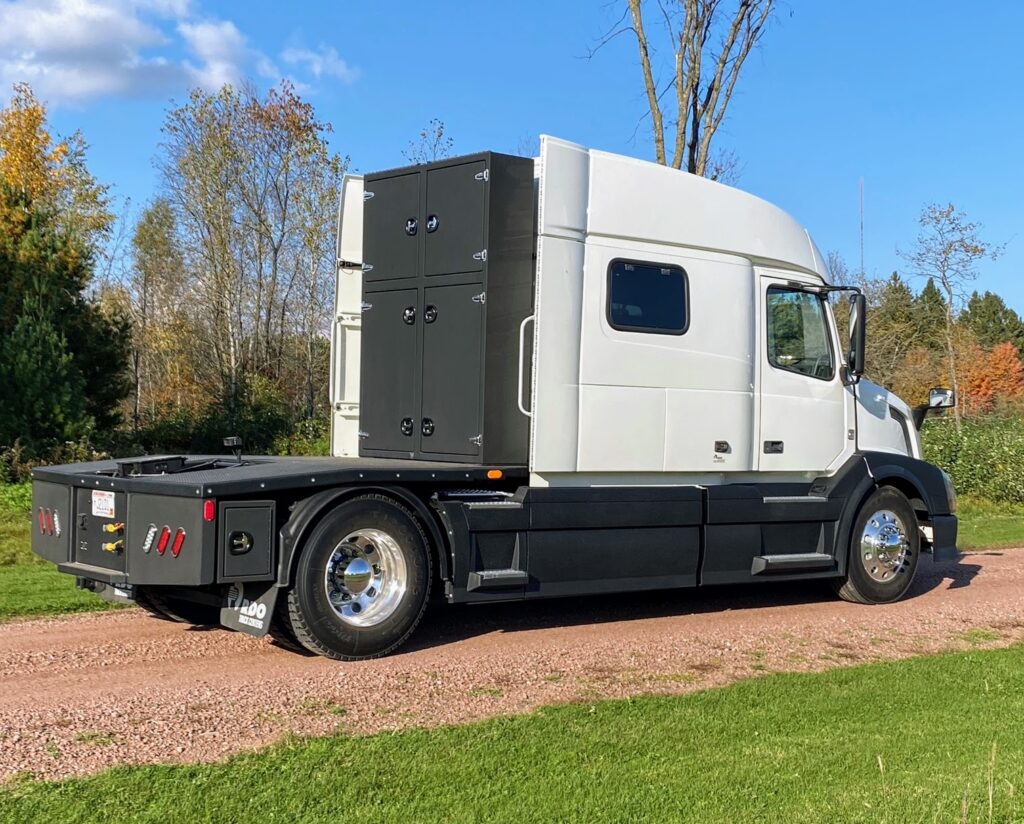 A truck singled "short" has the rear (drive) axle moved into the forward position, not into the 99" back of cab location as described above. This location shortens the overall length of the truck considerably, and makes for a great "daily driver" truck, used instead of a smart car or other vehicle, when you travel. It is a little longer than a pickup truck, depending on the model of heavy duty truck used.
While it could carry a smaller motorcycle, the bed is not intended to carry a vehicle. It has less storage than trucks singled to 99" back of cab, since there is typically no storage in front of the axle, and the rear storage boxes are designed to be smaller to reduce overall length.
A drom is still available for storage, and we can put on a combination headache rack/drom, if back windows in the truck are desired. A version of that headache rack is shown below on a Freightliner M2/112, for reference purposes – it will be slightly different depending on the truck layout and cab fairing style. In most cases trucks with vertical cab fairings use full-size droms instead of the headache rack, but specialized droms can be built to meet your needs.
The ideal candidate for a singled short truck, used as a daily driver, is a Volvo 630/640. The 61″ condo gives you room for rear seating, if desired, and there is ample interior space for a refrigerator and storage.
A compromise between building the shortest possible truck with a 630/640 and the longer truck that carries a smart car or other cargo is a relatively short Volvo 740. This truck has a 70″ condo instead of the larger 77″ condo. It still has a lot of usable interior space but can be configured as a shorter daily driver. The video below is shows a 2020 740 set up as a daily driver, but with slightly more deck space than making the shortest possible configuration. This truck has a 200″ wheelbase and is 27′ 3″ in overall length – and that includes the moose guard at the front.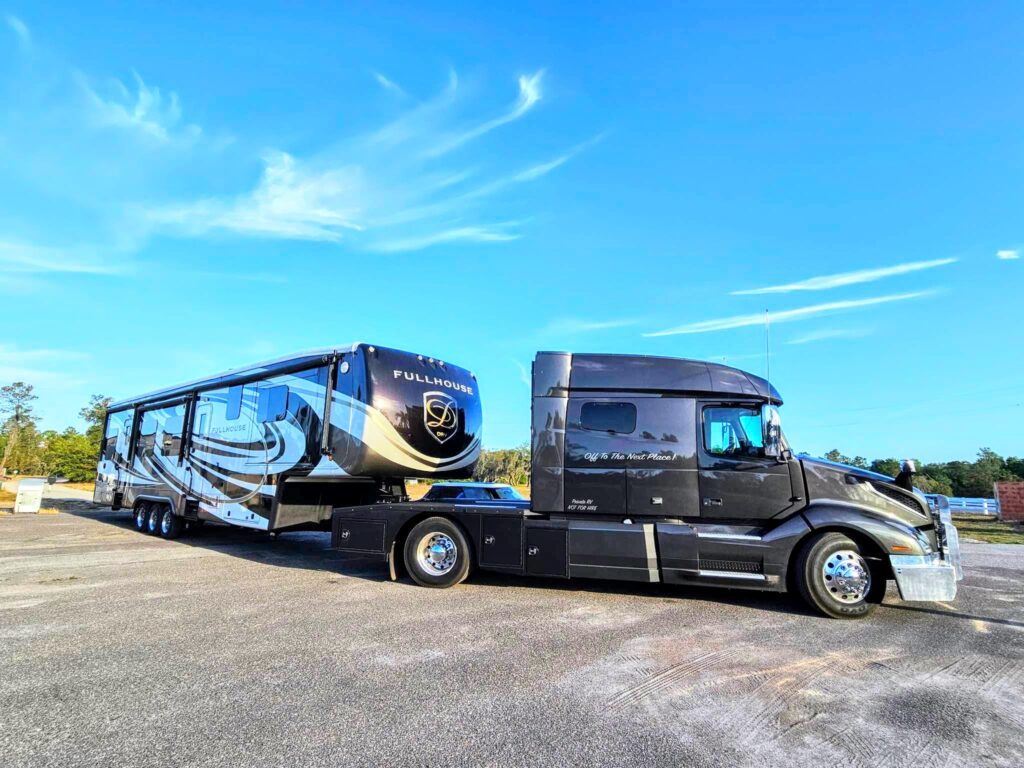 Sports Utility Bed Components and Options
Listed below are some of the major characteristics and options of the sports utility bed – but there are many more.
Full length deck; 101" wide. Sized for truck total length. Goes on tandem axle or single axle; any brand truck.
Custom side boxes; Front or Rear boxes, generally in pairs. Sized for your truck layout. Included in the price of the bed style chosen. Boxes that are different than our standard boxes are available as a priced option.
Drom box in steel or aluminum. 6' wide, 7' tall, 16" deep. Folding shelves with four doors; high-quality stainless hardware. Black; fully powder coated inside and out if steel. Lighting is an option. Height can be reduced if desired. Can be color-matched to the truck as an option. We stock the standard steel box.
Ramp storage under the hitch is standard on all beds – the ramps are placed side-by-side and there is additional storage in the boxes.
Hitches: 5th wheel hitch: ET; Class 4 receiver is standard; Pintle hitches; Suspension pintle hitch; Gooseneck hitch.
Rear lighting panel is a standard feature – this consists of the entire rear skirt, including the center utility panel. A 2″ receiver hitch is standard with the light panel. Oval LED lights , as shown.
Air quick connect on the rear panel is standard with gladhands optional.
Smart car option – ramps, straps, hardware, high-quality powder coated chocks.
Optional Rampage motorcycle or trike/CanAm lift systems integrated with the bed.
Winch option.
Tie-down option. Aluminum L-track placed where required and integrated with the deck. Best done during the deck build, but it can be added later. We use L-Track in our chock system.
Chicken lights are standard with all beds. Amber lenses, with amber lights. As an option we can place chicken lights on the truck itself – placed under the cab (on a Volvo) they align pretty well with the lights on the bed.
Electrical Center. Our electrical center is required. If you have a truck already converted and wired, we will work with it, but there likely will be an up-charge on wiring some components.
Full-width mud flaps are standard.
Drom Box
Almost everyone adds a drom box to their build. It provides a great deal of storage capacity, and on a tandem truck, especially, this is important since there is typically little side box storage.
While we used to carry an aluminum drom box, we only offer the four door steel box at the present time, in two versions. The exterior dimensions are – 7' high, 6' wide and 16" deep – it sits fairly even with the vertical cab fairings (sticks out about an inch). The steel boxes are fully powder coated in a textured matte black and has folding shelves in them which allows configuration for tall items (see the video below).
We typically have the boxes in stock, ready for mounting.
On the sports utility bed we leave the boxes black, to better match the rest of the system. On the premium painted body the drom box can be color matched to the body color – although the black does match the bedliner on the deck.
There is space available for filling the fuel tanks. We use high-quality stainless hardware.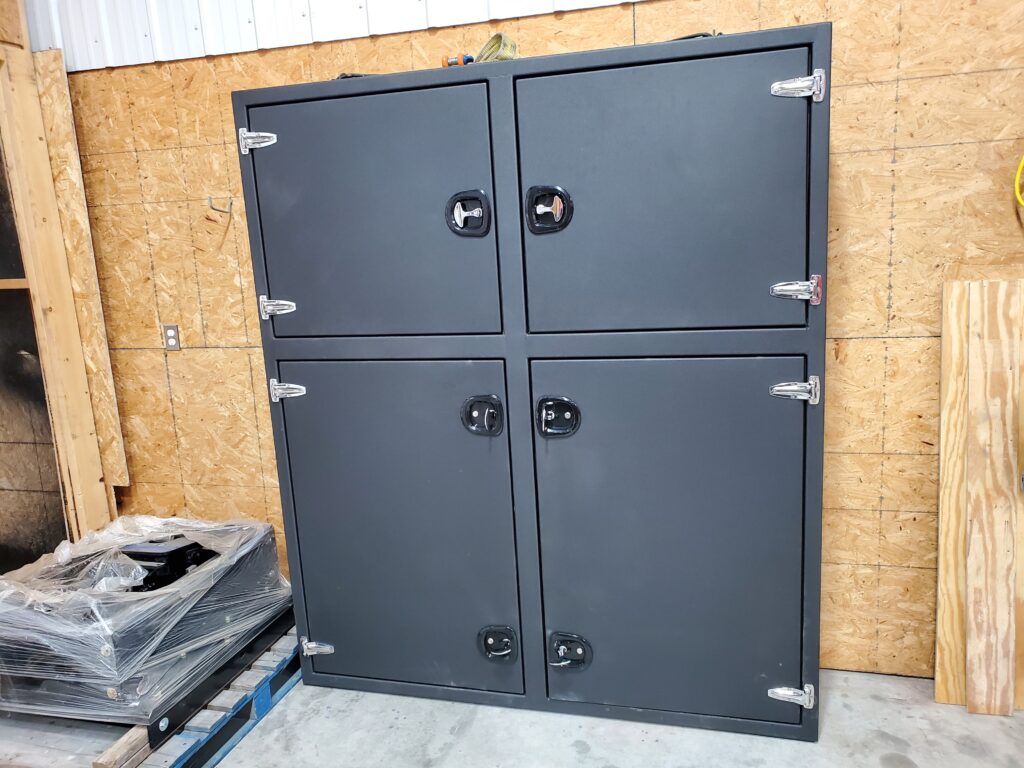 An option on all drom boxes is stop/turn/marker lighting at the top – which you see in the video above, under lighting.
Additional drom box information is HERE.
Winch
All sports utility beds have a receiver tube on the drivers side of the bed offset to a location suitable for winching a smart car, or other deck cargo. This can be used for winching any similarly sized item. An additional receiver tube is on the passenger side of the bed, centered on the cargo area.
As an option we can provide a two-piece winch arm with pulleys and a winch which clips to it. This portable winch solution is a viable alternative to driving a vehicle onto the bed. While many people do drive onto the bed, we recommend that you winch items on.
Smart car ramps, chocks, tie-down straps, and L-track are available options.
Truck Electrical Center
We provide full electrical and power system modules for Truck/RV use. Our power center incorporates best-in-class components and is designed for your future needs and expansion. In the photo below you can see the power center with an optional 2000 watt pure sine wave inverter/charger. If your truck has not been converted for RV use, you need at least a Jackalope for light conversion. We incorporate a Jackalope as part of our broader electrical solution.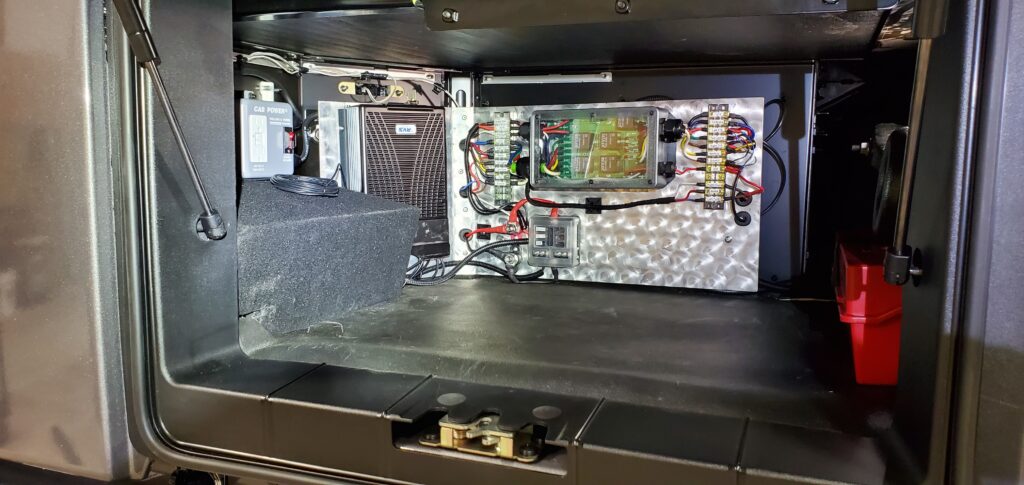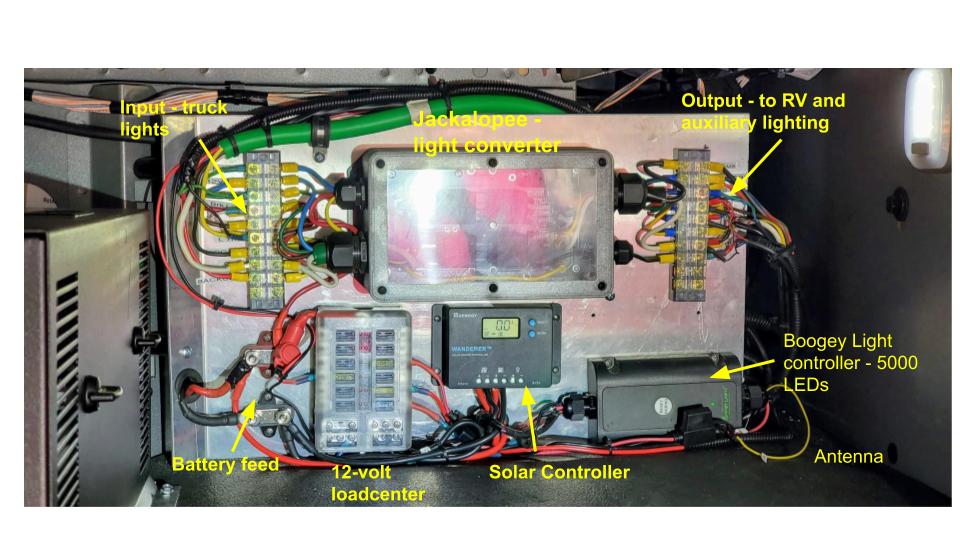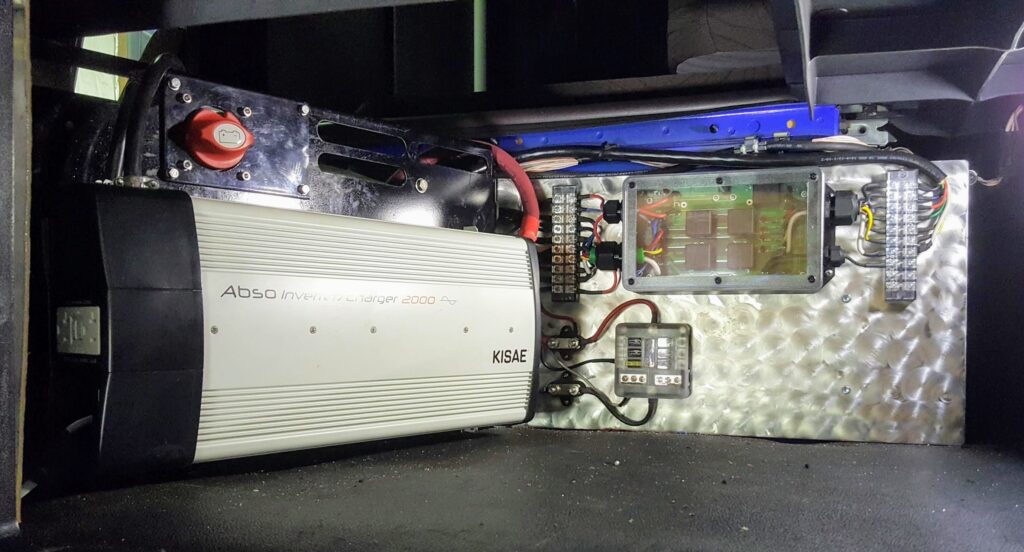 Getting this correct is key to future expansion, avoidance of faults within the truck system, and understanding the wiring. We mark everything and provide terminal strips and a load center for your future use as you add components. Most importantly we totally isolate anything we add from the truck electrical system. More on our electrical and lighting offerings can be found HERE.