While we used to have aluminum drom boxes, we are no longer going to offer them – mainly because of the cost of aluminum.
We presently offer a four-door steel drom box in matt black textured powder coat. Our boxes are fully powder coated, both inside and out. All hardware is high-quality stainless steel.
Installation on our bodies is included at the time the body is installed. If installing on other bodies there is an installation charge, since preparation and structure is always required.
We offer two "styles" of the steel drom box – both have four doors and are identical in dimension. They differ in that one style shortens the lower doors and raises them higher on the face of the box allowing for longer-term storage (especially batteries) in the base of the box and for clearance to motorcycle lifts.
The drom box is designed to sit on the deck, and is six feet wide, seven feet tall, and 16″ deep (outside). It weighs approximately 750 lbs. The shelves are laid out as shown in the drawing, and all shelves fold up flat against the back wall and can be retained by magnets. All of our beds are structured to hold one of our drom boxes, even if not part of the original bed order. We can build deeper or narrower (5′ wide) versions of this drom as a custom product. Note that putting a drom on decks not built by us almost always requires structure to be added. You cannot attach a drom to just deck plating.
While we sometimes build custom-sized drom boxes, in general we discourage this. The standard box meets most people's needs. Custom boxes are expensive to build and take a generous lead time.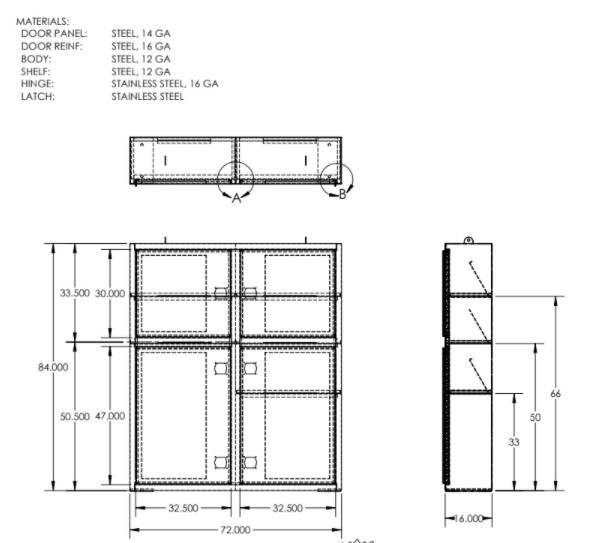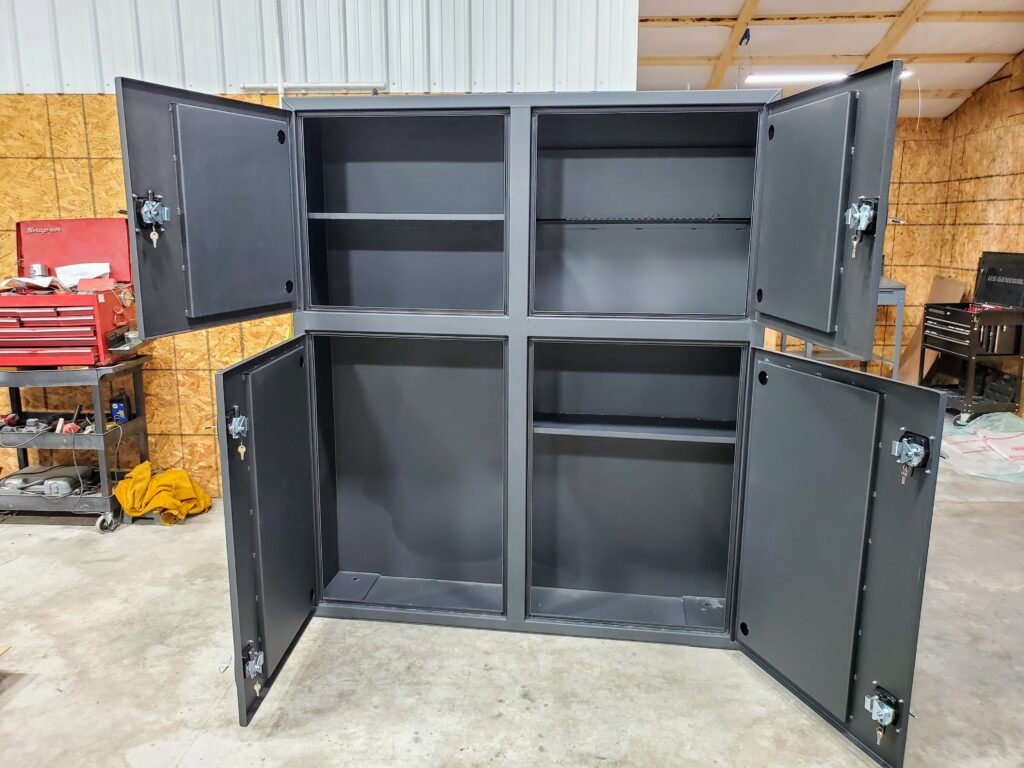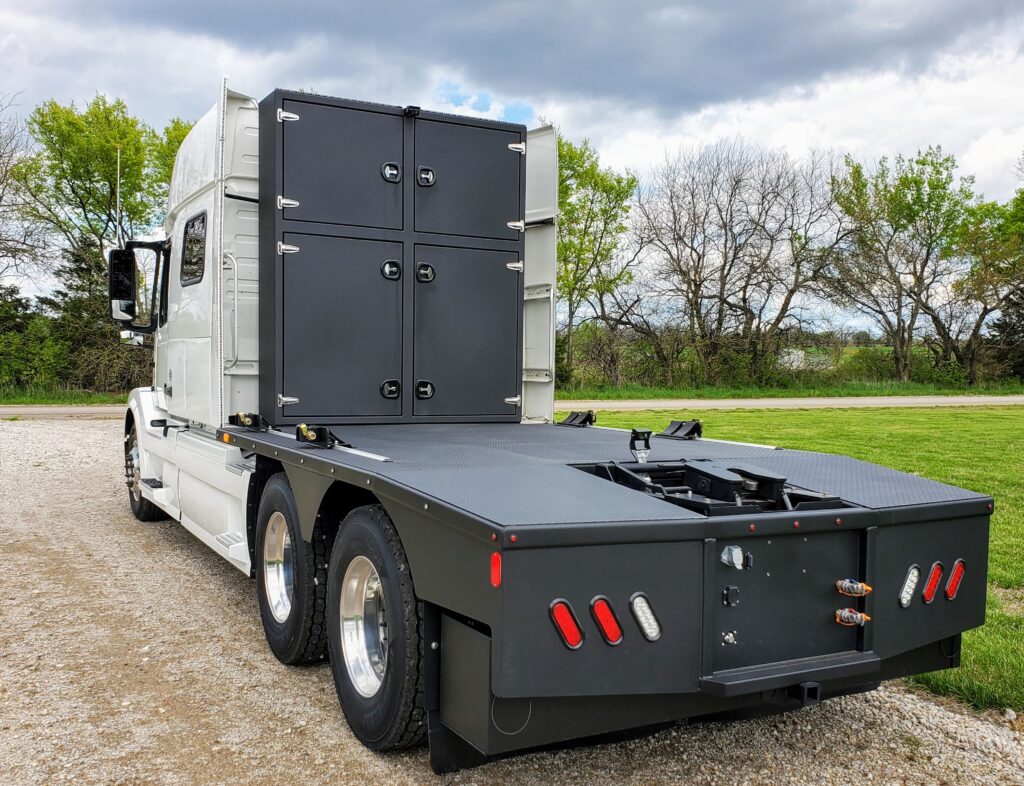 Installation at our Kansas facility is included when part of a bed build – otherwise we charge for installation, since we typically have to attach structure to mount the box.
The second style of drom box shortens the (lower) doors, which raises them higher on the face of the box allowing for longer-term storage in the base of the box. This is typically used for house battery banks. It is covered with a folding "shelf" which acts as the floor of the interior. This also allows for the doors to clear most motorcycle lifts that are placed in front of the box.
If interested in a house battery bank for either the RV or the truck we can supply Lithium batteries that are heated, or AGM batteries. We stock 12 volt SOK 206H Lithium batteries (206 amp hours). Adding Lithium batteries requires proper charging capabilities and heat/cold management. We fan-ventilate the battery compartment to keep heat under control, and use only heated batteries. We protect the truck charging system from excess charge demand, and provide proper monitoring of the battery bank. We use Victron products for monitoring and charging via the alternator.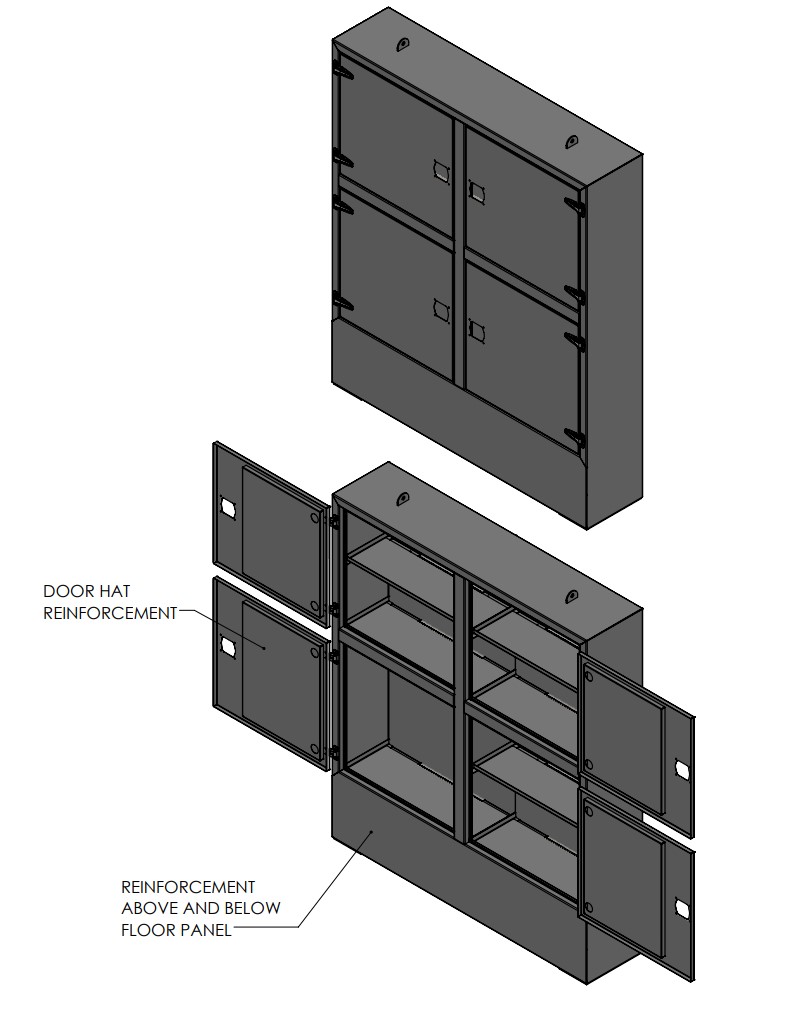 The variant of the drom box shown above and below accommodates batteries in the lower section, and also clears a motorcycle lift. Exterior dimensions and general layout are the same as the standard drom box.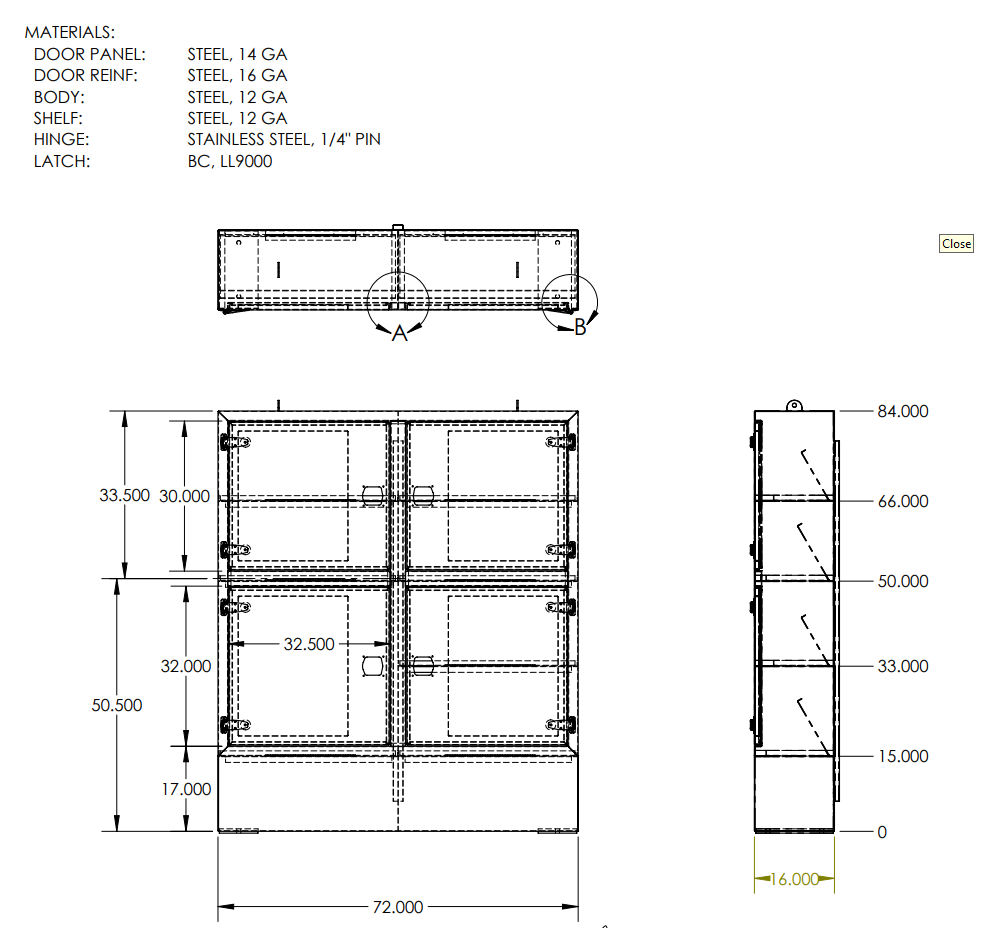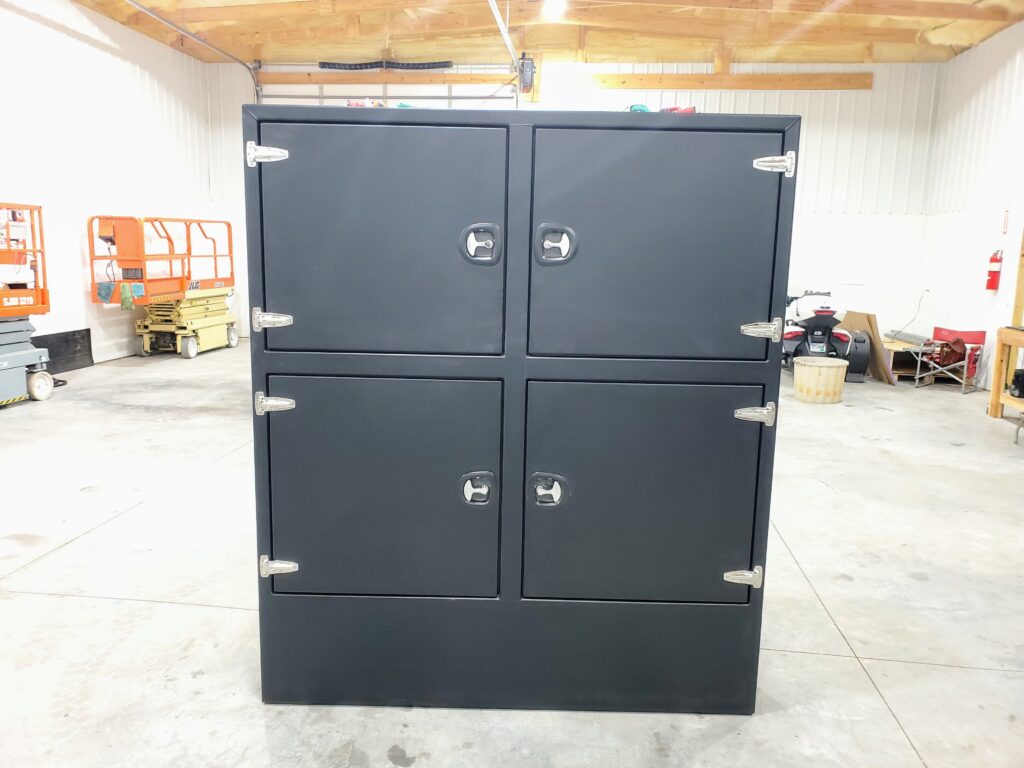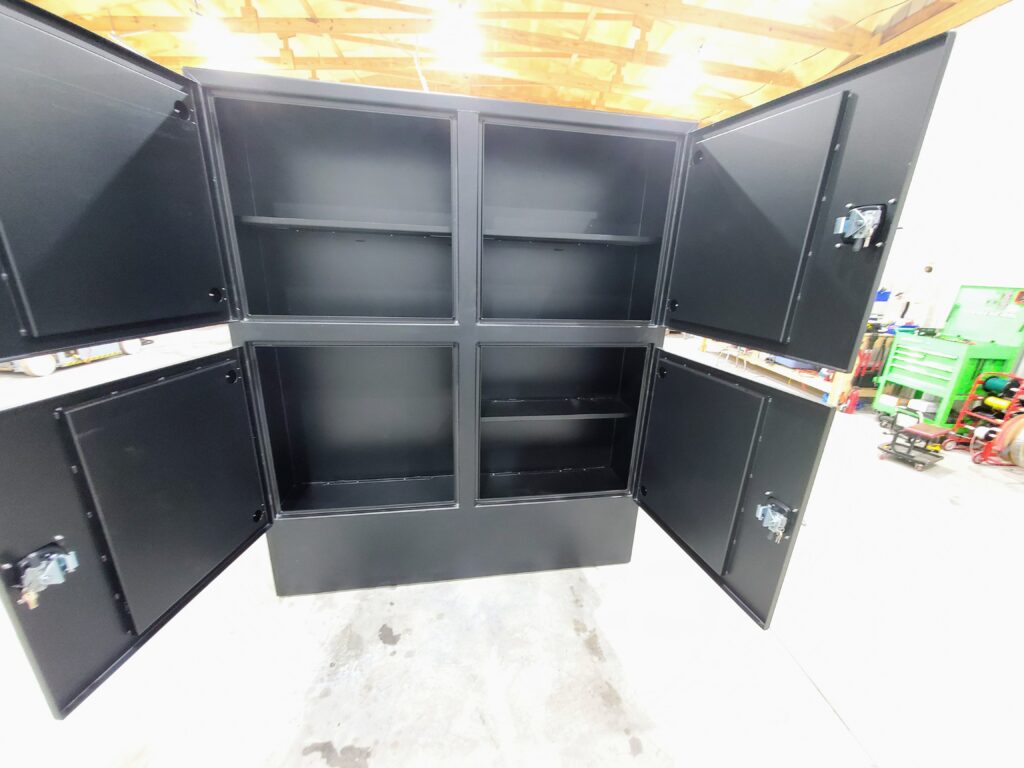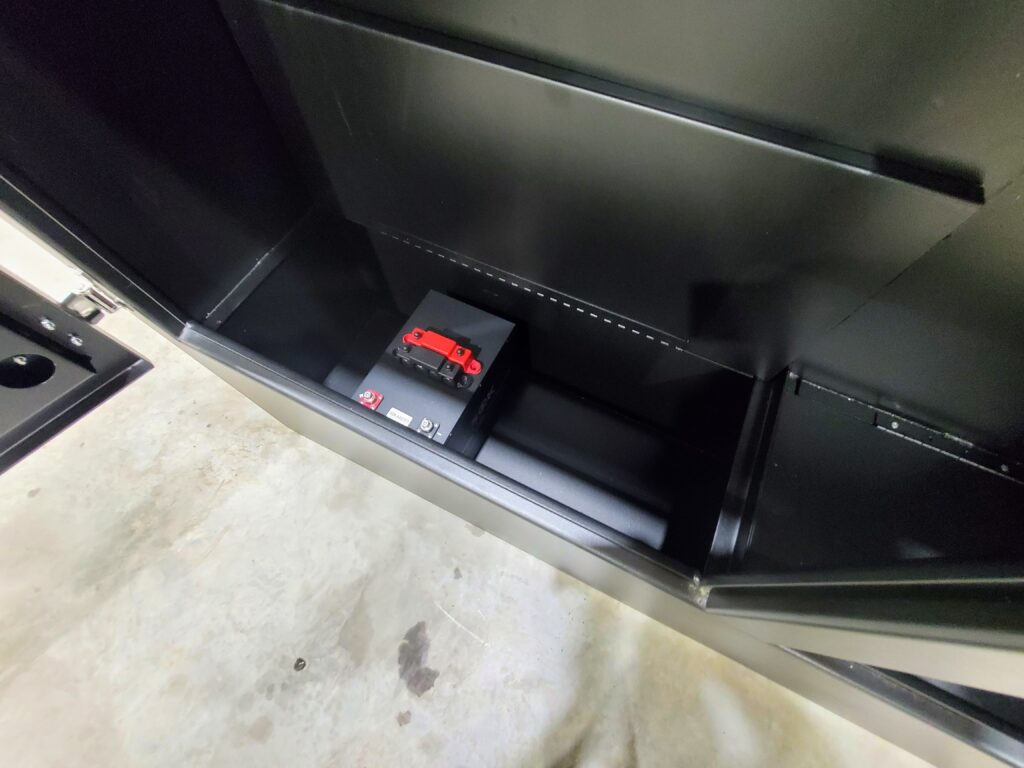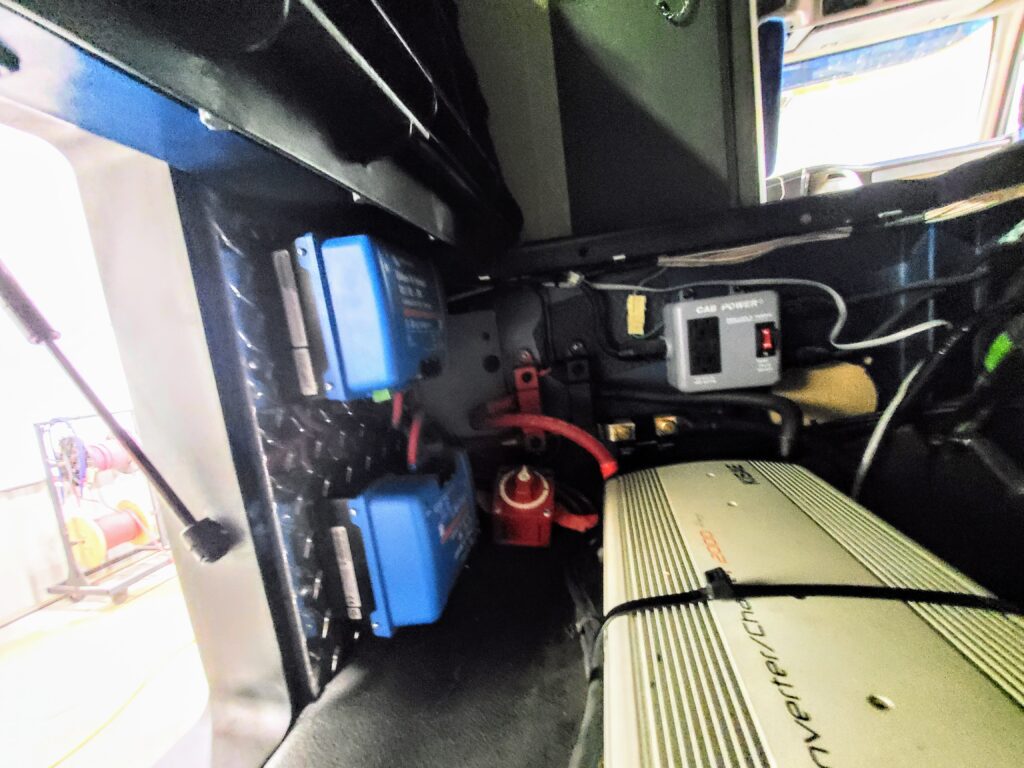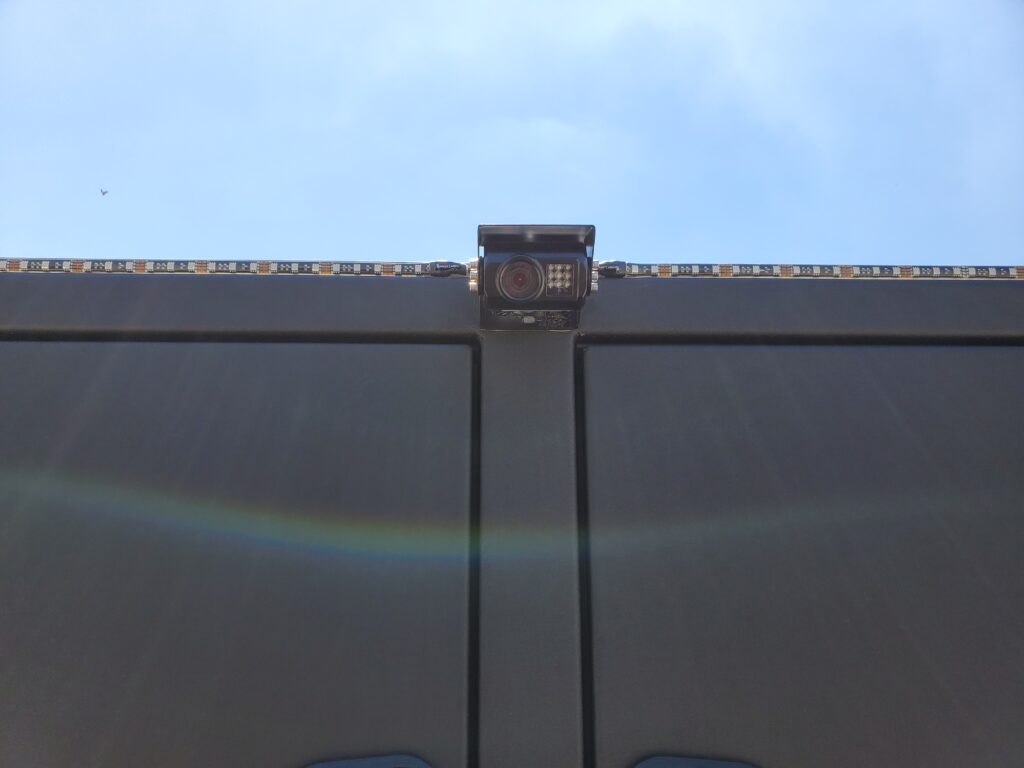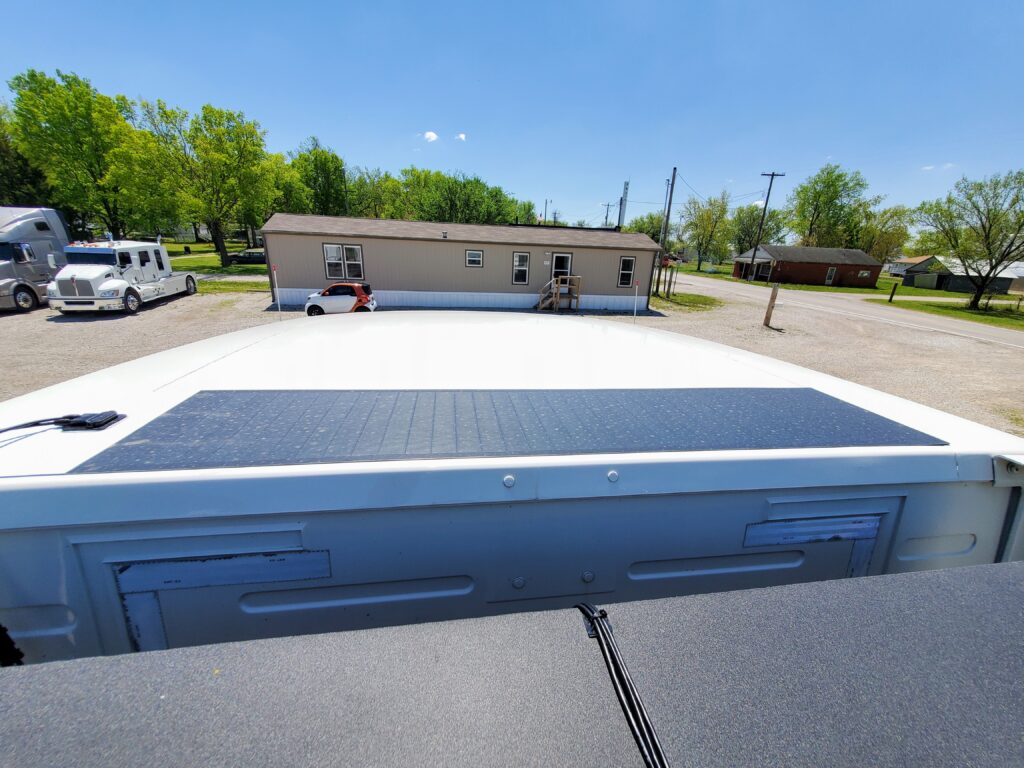 Drom box options include:
Mounting understructure (if required). This varies based on the body design of your truck. For bodies that we design this is included.
Lighting across the top of the box – LED's tied to the truck lights – stop/marker/turn with a sequential amber turn signal.
Interior lighting – LED strip lights with manual switch.
Wet paint finish coat with clear-coat. Color matched to the truck. We discourage this, since the powder coated box matches the top deck well.
Solar panel (100 watts) flat on drom top. This is a rigid panel. The panel comes with a charge controller that ties to the starting battery bank to keep that bank charged.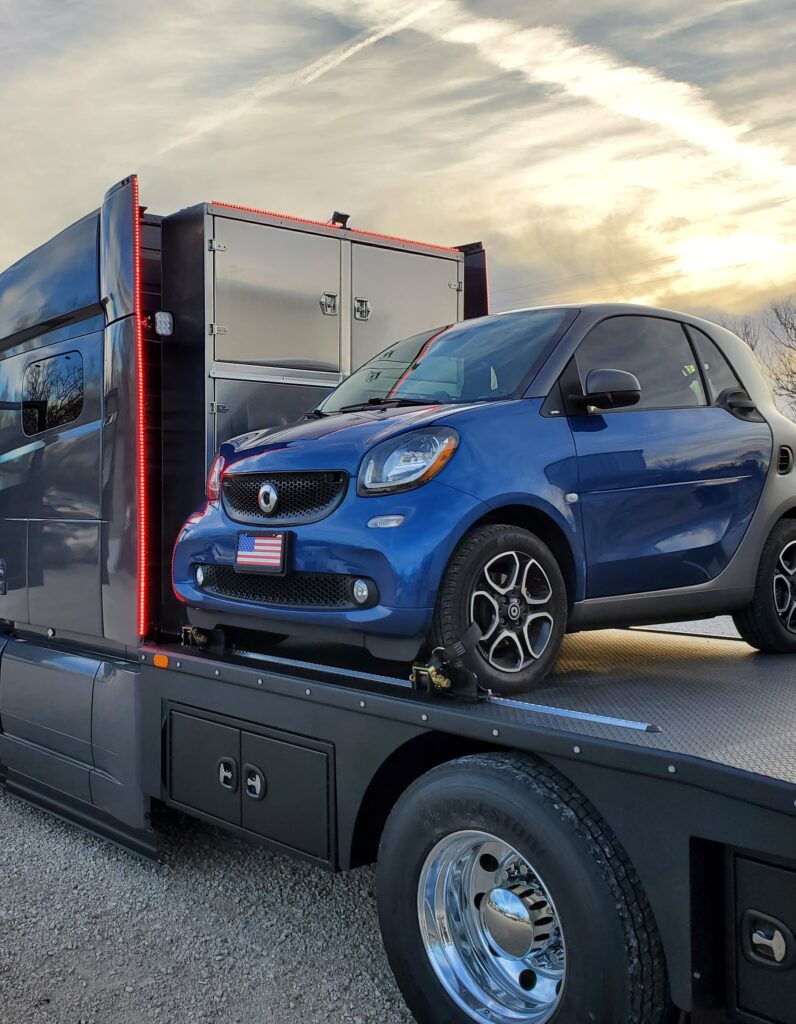 Specialty Drom Boxes
We build custom drom boxes and some specialty boxes. This requires considerable lead time for engineering/CAD and of course the cost is higher.
We can build droms with integrated headache racks, as shown below. These work well on smaller trucks that do not have cab fairing, or if you want to remove the cab fairing. The one shown is on an M2-112, but could be easily adapted to a Volvo 630/640.
We also can build a drom box that contains liquid storage. This box is mainly dedicated to the liquid tanks – there is little additional storage space (but there is some). As shown, we added two stainless steel tanks, with high quality (food grade) stainless fittings. Each of the tanks was 160 gallons – one was dedicated to waste water, the other to fresh water. This allows for considerable liquid storage while retaining cargo storage on the sides and under the body. These tanks are custom-built so they could be adapted to other sizes.
The conventional method of putting "some" water storage under the hitch interferes with ramp storage, and is very limited in the quantity stored. Moving it to the drom is a better utilization of space and gives you far more liquid storage capacity.
In the specific implementation shown we have a fresh water pump and a macerator pump built in. The truck shown pulls a 53′ Spacecraft semi-RV, which is why it has a commercial hitch.