Who We Are
What makes RVH Lifestyles unique? We live the RVing lifestyle – the company Principals are presently, or have been, full-time RV'ers. Collectively we have over seventy years of RV experience, with over twenty-five years of full-time RV living. We have decades of experience pulling large fifth wheel trailers with HDTs (Heavy Duty Trucks) and MDTs (Medium Duty Trucks).
While we are a new/used truck dealer we do not simply buy a used truck and re-sell it like a typical dealer would. We renovate and customize the truck to your specifications. Or, if it is a demo truck we buy for our own use, we use it to test out new ideas, features and products. Our demo trucks are some of the best deals out there, since they integrate many of our new ideas.
We don't just market products. We live with, and utilize our own products in our lifestyle.
RVH, LLC , d.b.a. RVH Lifestyles is based in Dennis, Kansas where we provide mechanical, fabrication and accessorizing services for Heavy Duty Trucks deployed in recreational service ("Haulers"). Trucks designed for RV haulers, horse trailer haulers, race car haulers and specialized boat haulers are our typical projects.
RVH was formed to bring complete turnkey hauler capabilities to the North American market. RVH is unique in that we provide all aspects of RV hauler development and services. From concept, education, service, new/used truck upfitting and sales, to hauler bodies and accessories – we provide a turnkey solution to your recreation hauling needs. No one else in the heavy duty hauler business provides the breadth of services offered by RVH.
RVH business operations and products are based 100% in the United States. Our central location in southeast Kansas provides convenience for customers from across North America. Our location one block off a US highway makes for easy access.
The interview below was done a few years ago by Karen and Dave Watts – "Watts on Wheels". Check out their YouTube channel HERE.
Customer Experience Policy
RVH Lifestyles mission is to create a superior customer experience. We endeavor that all interactions with our company will be:
Timely. We commit to respond in a timely and appropriate fashion for each interaction.
Convenient. We use whatever communication medium the customer prefers (phone, email, text). We also offer private campground accommodations for our customers during the purchase process. You can get all of your hauler needs met through our product and service offerings – all in a central location.
Honest. We collaborate with clients to guide them through the purchase process, to a successful outcome. Understanding the "mission profile" of a customer allows us to recommend the most appropriate solutions. We don't play "sales games", or try to oversell our customers. We will turn work away if we do not believe it is a good fit for our business objectives, or for the customer.
Educational. Part of the service we provide is before-sale consultative education. We do this through one-on-one discussions, and with various educational materials that we make freely available. We believe that an educated consumer results in the best customer experience. We are pleased to provide education to the general market – you do not have to do business with us.
Supportive. After sales support is a critical component. We provide ongoing support for our customers in many ways – both through educational materials, trusted maintenance facilities, warranties, and direct consultations. Our goal is that you feel totally confident in your purchase and its long-term use.
How We Do Business
RVH provides key elements of our business with our own in-house services at our Dennis, KS campus. The Dennis campus is primarily oriented to final assembly and accessorization of our products, solar and electrical installation on RV's, as well as administrative activities. Our in-house paint and body facility is also located on the Dennis campus. The body shop facilitates repairs and painting of our projects and minimizes delays while providing flexibility to our customers.
In addition to our own in-house services, RVH uses a collection of Strategic Partners and Authorized Service Providers to provide elements of our product portfolio. We choose, vet and train these providers to our strict standards. In some cases we place our own team members into our partners shops where they work side-by-side with our providers.
What are the benefits of the RVH Strategic Partner (SP) and RVH Authorized Service Provider (ASP) business model to customers?
RVH acts as a single source for 100% of the RV Hauler conversion and other work items.
RVH's model provides similar benefits that a General Contractor provides to customers executing complex building projects.
RVH qualifies all Strategic Partners with our own builds prior to using them on customer projects.
All warranties are with RVH, not with a mix of vendors. We coordinate any warranty claims with component providers.
Project Budget and pricing are all inclusive – no surprises.
RVH provides engineering, proprietary work processes, and leverages our extensive experience to ensure product quality.
RVH will bring in-house any portion of a project that cannot be performed by a qualified Strategic Partner.
RVH ensures all quality standards are met.
Reduced trial and error by using RVH to execute your projects.
All design features are proprietary to RVH and can't be used by any Strategic Partner or Authorized Service Provider without authorization.
RVH provides ongoing training and support to all Strategic Partners to ensure quality and standards are maintained and/or improved.
RVH ensures that all service providers meet RVH insurance and financial requirements so that customers are protected from liability or failed execution of a longer-term project.
RVH has contingency and capacity flexibility better than a single-sourced shop. We have multiple partners in each topical area of our product offerings.
RVH controls all workflow tasks to manage on-time project delivery.
Licensing
RVH, LLC operates as a fully accredited Retailer, new and used vehicle dealer, and vehicle converter, with licensing in Kansas. We are properly licensed, bonded and carry insurance to protect our customer's interests.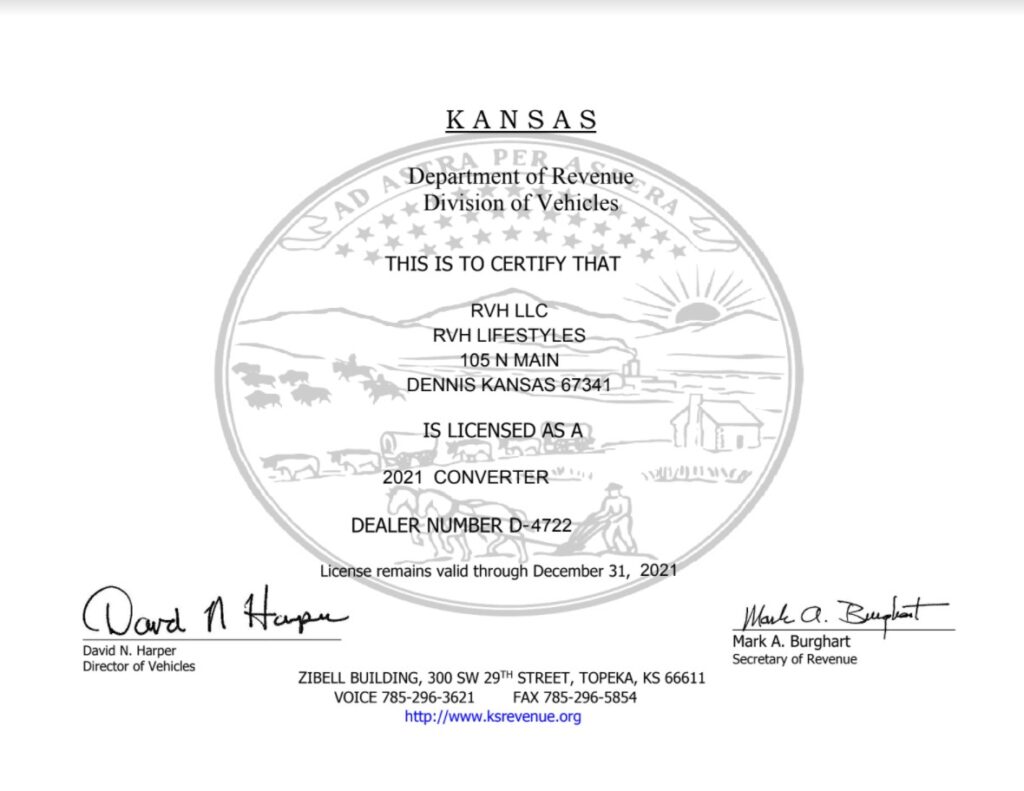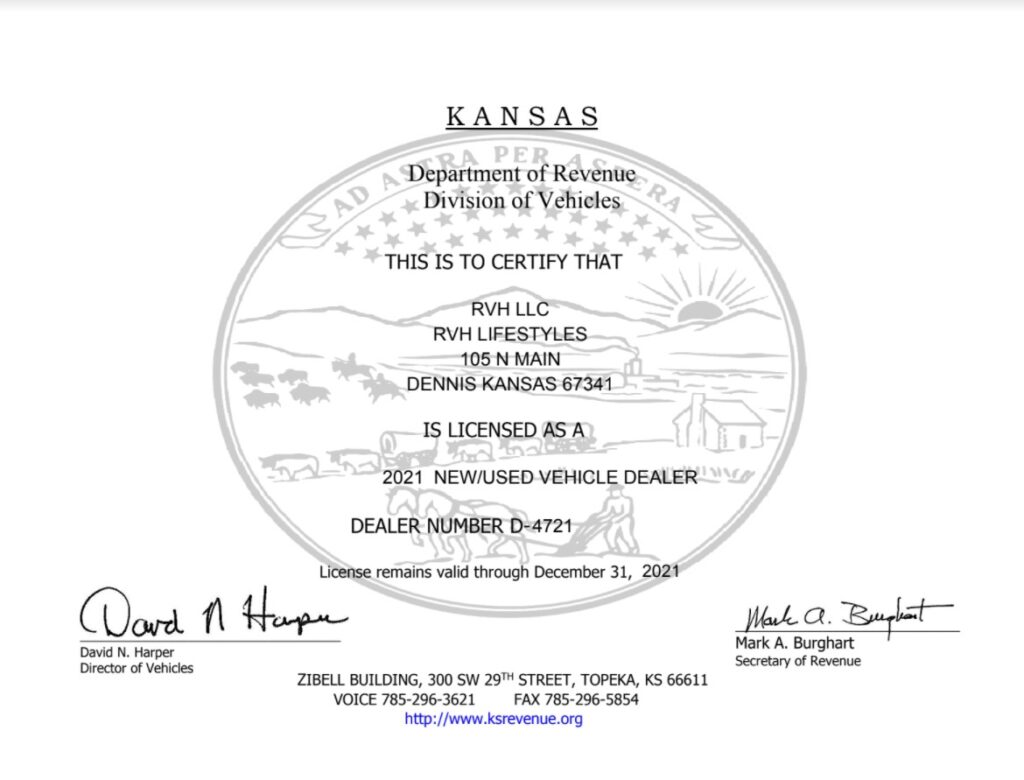 Privacy Policy
Our privacy policy may be found HERE.